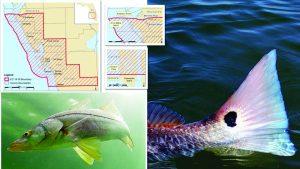 STAFF REPORT – The Florida Fish and Wildlife Conservation Commission (FWC) has temporarily made snook and redfish catch-and-release only from the northernmost point of Anna Maria Island in Manatee County to Gordon Pass in Collier County. This was done through an executive order in response to the red tide bloom in Southwest Florida and is in effect until the next FWC Commission meeting on September 26.
The executive order states, "Notwithstanding anything to the contrary in Chapters 68B-22 or 68B-21, Florida Administrative Code (F.A.C.), and except as provided in paragraph 3 below, a person must immediately release any red drum (Sciaenops ocellatus) or snook (Centropomus spp.) caught in or on the described region during the term of this order and may not possess a red drum or snook in the described region …
"All Florida waters of Manatee County south and east of a line commencing at the westernmost point of Emerson Point, thence proceeding in a westerly direction to the northernmost point of Anna Maria Island, thence proceeding due west to the intersection of the Manatee – Hillsborough County line, including all waters of the Manatee and Braden rivers; all Florida waters of Sarasota, Charlotte, and Lee counties; and all Florida Waters of Collier County north of a line extending due east and due west from the south bank at the mouth of Gordon Pass."
"I support Executive Director Eric Sutton's decision to implement the executive order as we continue to manage this world-class fishery for future generations," said FWC Chairman Bo Rivard. "We will continue working with our partners and will evaluate next steps at our Commission meeting the end of September."
Sutton has spent significant time in the areas most impacted by naturally occurring red tide. He and staff will continue to work with local communities and partners as the FWC manages this issue to ensure recovery of the fisheries.
"We've seen the devastation to the redfish and snook populations in Southwest Florida, and we support the catch-and-release initiative taken by FWC," said Brian Gorski, executive director of Coastal Conservation Association Florida. "In working with the FWC on this initiative, we've had support from members and guides throughout the state who also understand the need for such a change, to ensure that generations to come can enjoy the thrill of catching one of these iconic species."
Regulations outside of those counties remain unchanged, including the Sept. 1 snook season opening that occurs in other Gulf and Atlantic state waters.
For more information, visit MyFWC.com and click on "About," then "Executive Orders."