To the Editor: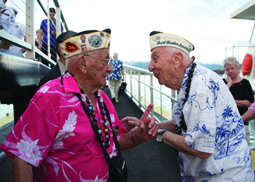 Pearl Harbor survivors John Seelie (left), from Engwood, Florida, and Edward Stone, from Syracuse, New York, talk during a tour of the USS Arizona Memorial.
Dec. 7, 2016 marks the 75th anniversary of the attack on Pearl Harbor and Oahu.
The U.S. military and the State of Hawaii are hosting a series of remembrance events throughout the week to honor the courage and sacrifices of those who served during Dec. 7, 1941 and throughout the war in the Pacific theater.
As a Pacific nation, the U.S. is committed to continue its responsibility of protecting the Pacific sea-lanes, advancing international ideals and relationships, well as delivering security, influence and responsiveness in the region.
Mrs. Kayla Good
Navy Office of Community Outreach Media Outreach Department 5722 Integrity Drive, Bldg 456-3 Millington, TN 38054
(U.S. Navy photo by Petty Officer 2nd Class Shaun Griffin/Released)