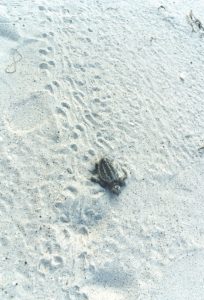 To the Editor:
As we wind down the fifth sea turtle nesting season since the inception of the Boca Grande Sea Turtle Association, we want to extend our gratitude to our community and volunteers. We are thankful to live in an area that champions our efforts and takes such an active role in supporting our mission.
First and foremost, our immense gratitude to Donna Larson, the permit holder for Gasparilla Island, and her husband Gary. This was Donna's first year as permit holder, and she did an absolutely fantastic job keeping everyone organized, trained and updated. Being the permit holder comes with a lot of responsibility, and it's a long season. Donna and Gary put their heart into it, and we are grateful!
To our group of dedicated volunteer patrollers, who tirelessly donated their time during the six-month season, a hearty thanks. Without your assistance, we could not achieve our mission to protect and preserve sea turtles and their habitat along the nesting beaches of Gasparilla Island. In particular, we extend our gratitude to Ashley Coleman, Nathan and Carol Forrester, Candy and Bill Sasser, Kathy McClure, Lisa Fultz, Leslie Coe, Colby and Rick Fortune, Denise and Eric Juergens, Martha Dehne, Tammy Menzel, Ashley Hill, Joe Cavanaugh, Judy Kauk, Cathy Brown, Mary Kay Forrer, Marcia and Robert Greenwood, Cindy Howell, Linda and Randy Simmons, Jeff Humbarger MD, Cindi Schwartz, Maria Leonardo, Michelle Capogrosso, Mary Bess, Terry Wouters, Kayla Philips, Kim Woods and Sherry and Ed Toth.
It is no small effort to go out each morning into the hot, humid summer sun in support of turtle conservation. Your commitment is deeply appreciated.
Nests were down around 25 percent this season, in part due to the storms and an unusually high predation rate, but also due to the natural cycle. The beach was darker at night than ever before, thanks to homeowner commitment to lighting compliance. We also had more volunteers, fewer issues with beach debris and more donations than ever, which allowed us to provide education, outreach and protection for the loggerhead and green turtles that nest on our beach each year. We extend our sincere appreciation for the generous support and assistance.
There are many others who provided support, including the Whidden Family, who have allowed us to store stakes on their property this year, and Susan Erwin of the Boca Beacon, who provides
updates to the community on our activities and promotes awareness of proper beach protocols during the season. The Boca Grande Woman's Club funded our educational outreach materials, which help residents and visitors understand their impact on our unique topography and how they can help sea turtles. The Johann Fust Library Foundation provided space for our Junior Sea Turtle Patrol program and to showcase our literature, which helps increase awareness throughout the community, and Michael Saunders & Company sponsored our end-of-year celebration.
Our beautiful, wild and natural beaches make Gasparilla Island special, and as visitors to our island increase, it becomes even more important to preserve this unique part of our island. The Boca Grande Sea Turtle Association is committed to keeping our beaches optimized for sea turtle nesting, and we are deeply appreciative of those in our community who support our mission.
Donations are welcome and can be mailed to Boca Grande Sea Turtle Associations, PO Box 478, Boca Grande, FL 33921.    You can follow us on Facebook at facebook.com/seaturtleawareness or learn more at our website, bocagrandeseaturtles.org.
With gratitude,
The Boca Grande Sea Turtle Association Board of Directors (Grace Harvey, Maureen and Ched McConnell, Nancy Lingeman, Sharon and Karl Knapp, and Melissa Csank)