To the Editor: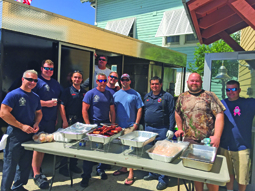 The Boca Grande Firefighters would like to extend a heartfelt thank you to everyone who came out for our Rib Feast on Sunday.
The overwhelming show of support by the community was more than any of us expected, and we were able to completely sell out in less than three hours. Our final tally was roughly 275 dinners served.
We really enjoyed being able to show off our wonderful facility and especially our fire engines and equipment to all of our younger visitors.
Two special "thank you's" go to Hudson's Grocery and to Kevin O'Connor of Backwoods BBQ Catering for offering his time and equipment to help make this event a reality.
We look forward to holding more events like this in the future!
Firefighter Patrick O'Connor and everyone at the