■ STAFF REPORT.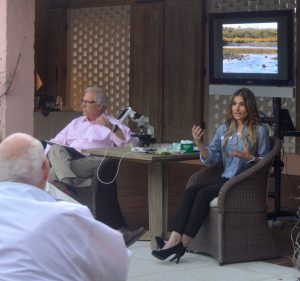 On Thursday, Feb. 23 Dr. Michael P. Crosby, president & CEO of Mote Marine Laboratory, announced that an anonymous challenge donation of $100,000 has been made to support Mote scientists' efforts to expand their red tide-related research and outreach efforts in Boca Grande.
The donors have challenged the Southwest Florida community to match and exceed this philanthropic investment to support Mote's efforts to address harmful algal bloom impacts in Boca Grande.
"We are grateful for this generous charitable investment, and we are excited to move Mote's red tide research efforts to the next level," Crosby said. "We expect that a successful match to this challenge grant will significantly advance Mote's innovative red tide research, monitoring and mitigation program in Boca Grande while directly engaging and benefiting the residents of this community."  
This Southwest Florida region is known for its beautiful beaches and coastal culture, fisheries and other ecologically and economically important marine resources. However, harmful algal blooms (HABs) – such as Florida red tides caused by Karenia brevis algae – can deter tourists, kill fish, close shellfish harvest areas and cause beachgoers to cough and sneeze due to airborne toxins. Today, HABs such as K. brevis red tide in the marine waters off Florida's Gulf Coast, brown tides of Aureoumbra lagunensis algae like those in the Indian River Lagoon, and blue-green algae blooms such as those in Central Florida's freshwater systems are the focus of successful and emerging research initiatives at Mote.
So far, there is no tried-and-true way to combat some of the most challenging HABs without risk to the Gulf's sensitive ecosystems.
However, Mote and partners have led innovative HAB research for decades, and this new challenge donation will help Mote expand its innovative approaches and technologies to address the critical need for HAB prevention, control and mitigation. Specifically, the new challenge donation will support: • Expansion of local community outreach and engagement to benefit those affected by HABs; • Advanced technology such as citizen science apps for mobile devices and field sensors for HAB forecasting support; • Improved rapid response strategies for mitigation of HAB impacts on public and ecological health and economics; and • Innovative strategies and technologies for HAB control.
Doctors speak about Red Tide
Red tide remained a nuisance on the island last Thursday evening, Feb. 23, as Mote Marine staff scientist Dr. Tracy Fanara explained what the organism is and why it seems to favor the Gulf water.
"The water here provides the perfect mix of salinity, acidity and other nutrient sources that initiates a red tide bloom," Fanara said.
While naturally occurring in the Gulf, Karenia brevis can cause respiratory irritations when concentrations exceed 1,000 per liter. Higher concentrations can trigger fish kills, and very high concentrations can taint the water reddish brown. Fanara said wind and storms could influence a bloom in several ways.
"That's why the beach conditions report is so important, because a bloom can change drastically in just a couple of miles," she said. "If the winds are coming onshore, you can have very serious respiratory irritation. Storms add more complications, because there are contradicting things happening."
The blooms start offshore on the ocean bottom. If a bloom is close enough to shore to utilize nutrients, then it will use those nutrients to sustain the bloom. And during storms, the fresh water coming in causes the salinity to drop.
"There seems to be a seasonal trend. It usually starts in later summer or early fall and continues through April, but it can occur any time of the year," said Boca Grande Clinic's Dr. Jeffrey Humbarger, who also spoke at the presentation.
"It's very difficult to predict how long a bloom might last. In 2005 we had a bloom that lasted for almost 18 months," Fanara said. An audience member asked if human activity could influence blooms. "Our inland activities do not cause the initiation of the bloom; however, as the bloom gets closer to the shore, fertilizer run-off can sustain a bloom," Fanara said. Humbarger added that the best thing when symptoms get worse is to go inside, close your door, and run your air conditioning.
"You can also increase your allergy medication or add a stronger prescription medication," he said. "A regular surgical mask can also decrease the respiratory symptoms by 50 percent."
Red tide can also affect our pets. "Dogs will sneeze, cough and vomit, and they can become very ill if they lick the sea foam on the beach. If they eat the dead fish on the beach they can also get toxin poisoning, which will make them very sick," he said. Scientists have been monitoring red tide since the 1970s.
"We're working with NOAA on a NASA-funded project where we are having citizens go out to the beach and take samples and upload real- time data to share and help us track a bloom," Fanara said. President and CEO of Mote Marine Dr. Michael Crosby closed the discussion with a surprising announcement.
"One of your neighbors here in Boca Grande, who wishes to remain anonymous, has issued a challenge grant to Mote. They have written a check for $100,000 to Mote, challenging the community to match that amount. So with that $200,000 we are planning to re-energize Mote's red tide research monitoring and mitigation technology development program right here in Boca Grande," Crosby said.
"It is going to build on some of the amazing technology that Dr. Fanara has been working on, so we can start to pinpoint exactly what areas of the island are being affected and when, so we can do a better job of identifying and alerting everyone to the most harmful areas during a bloom." Crosby suggested that if island residents cannot make a donation, they can donate time. "We will need volunteers to help with this project — citizen scientists who'll help us with the research," Crosby said.
He said Mote couldn't operate the research project without having consistent funding.
"First and foremost, we need Tallahassee and Washington D.C. to back our projects. Then we need help closer to home," Crosby said. "This is a serious health problem. As I stand here, I can hear the coughs, and it's affecting me, too. It's getting more intense. The ecosystem is out of balance and that's why we need to do more research to better understand it."