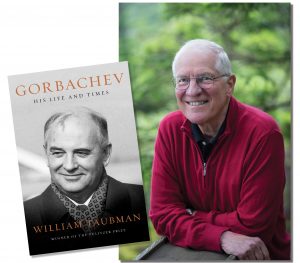 ■ BY SUE ERWIN
Pulitzer Prize-winning author William Taubman will discuss his book, "Gorbachev: His Life and Times, a comprehensive biography of the final leader of the Soviet Union," at 4 p.m. on November 15 at the Johann Fust Community Library.
The book chronicles Mikhail Gorbachev's rise from peasant to politician and describes how his liberal policies ended the Cold War and unintentionally provoked the breakup of the USSR. This latest work by Mr. Taubman follows his Pulitzer Prize- winning biography of Nikita Kruschev.
Taubman has travelled to Russia several times with his wife, Jane. They met and interviewed Gorbachev eight times, as well as some of his colleagues in Moscow. It took him eleven years to write the book.
"Which is actually much faster than my first book – that one took 20 years," Taubman said.
He started the project at the end of 2004, just after his prior book won a Pulitzer Prize.
Being a political science professor, Taubman has been fascinated with Russian politics for many years.
"Gorbachev was a very rare leader," he said. "He was able to pick up the baton that previous leaders dropped, and he chose to do some things that none would have ever tried."
At the presentation planned in November, Taubman said he will be discussing five key points from the book, and he'll address those issues with questions that will help explain the rare leadership of Gorbachev.
Taubman is the Bertrand Snell Professor of Political Science Emeritus at Amherst College in Massachusetts. He was president of the American Association for the Advancement of Slavic Studies in 2009 and chairs the Academic Advisory Committee of the Cold War International History Project at the Woodrow Wilson Center in Washington.
"We are very excited that Mr. Taubman will be speaking here at our library," said Johann Fust Library Foundation Executive Director Bobbie Marquis.
In the first comprehensive biography of Mikhail Gorbachev, William Taubman shows how a peasant boy climbed to the top of a system designed to keep people like him down, found common ground with America's arch-conservative president Ronald Reagan and permitted the USSR and its East European empire to break apart without using force to preserve them. Drawing on interviews with Gorbachev himself, transcripts and documents from the Russian archives and interviews with Kremlin aides and adversaries, Taubman's intensely personal portrait extends to Gorbachev's remarkable marriage to a woman he deeply loved.
This will be the first time the professor will be visiting Boca Grande. He was introduced to Bobbie Marquis through Boca Grande resident Chris Cowperthwait.
There is no charge to attend the program. The library is located at 1040 West Tenth Street. For more information, visit JFCL.com.
Photo by Michelle Stapleton