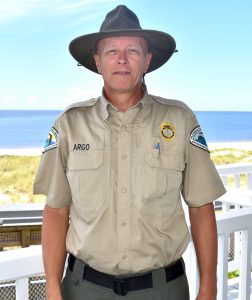 ■ BY SUE ERWIN
Gasparilla Island State Park Administration has a new leader, and he has plenty of experience to help him adjust to his new role.
Rick Argo served in the United States Navy for 20 years before joining the Florida State Parks service in 2005.
Originally from Roseburg, Oregon, the former chief petty officer joined the Navy after graduating high school.
"I started out as a maintenance technician and I chose the submarine training program because it seemed like a more unique experience," Rick said.
Patrolling the water in excess of 400 foot, Rick estimated that he spent about 12-and-a-half years under water.
Rick met his wife Dana, who he refers to as his "beautiful blonde southern bell," while serving in the state of Washington. She was a chief in the Navy as well. They met in a class when both were stationed in in Bangor, Washington.
They were married in 1993 and have five girls between them: Jaclyn, Tana, Miranda, Melissa and Kristi.
Kristi lives in Fort Myers, and the others live in various areas throughout the nation.
Rick just went back to Oregon this past summer to attend a wedding.
"The weather was absolutely perfect – sunny days and no rain – lows in the 50s and highs in the 70s," he said.
Dana is from Georgia, and likes the warm, southern weather, so when Rick retired in 2000 they moved to Pensacola.
Rick worked for a hydraulic company for a while in Mobile, Alabama. He later worked installing office furniture for government offices like social security offices and other agencies.
Dana worked in civil service, and her job took them to Jacksonville.
From there, Rick wrote technical guidebooks on hydraulic components for the U.S. Navy. "I wrote manuals about aircraft elevators and steering gears, and it was at that time I really decided I wanted to work for the park system, and be in an outside environment again."
So he went back to school to earn a master's degree in natural resource management and environmental policy.
He earned his undergraduate degree in adult education while he was on shore duty. He was also a shore tours instructor for a while for the Navy.
"I definitely enjoyed the experience and the closeness of the crew over the years – the friendships made and the camaraderie – it was a great experience."
Rick started out as a ranger in Talbot Island State Park, located north of Jacksonville. He quickly was promoted to a park services specialist.
In 2007, Rick accepted a position at Big Lagoon State Park in Pensacola as the assistant park manager.
"That was my first beach park and I really enjoyed working near the water," he said.
In 2011, he transferred to St. Andrew's State Park in Panama City.
"That was a big park, it had 170 campsites," Rick said. "It was different because we didn't have a lot of snowbirds, because they want to be further south. So our summertime was extremely busy, as opposed to our parks."
He became manager of Hillsborough River State Park in 2013.
In 2015, he moved down to Fort Myers to work at Koreshan State Park. That park is named after a pioneering colony that led to the development of Estero in the 1890s.
"It was a historic site comprised of 11 buildings that guests can walk through and see what it was like to live in those earlier days," Rick said. "We were very busy in the winters and we had many volunteers."
Three years later, the park manager said he is happy to be working at the beach again.
"I love everything outdoors and my wife and I really like to fish so we are very happy to be here."
He had visited Boca Grande and Stump Pass State Parks several times by boat.
"I had a boat and used to visit the Pine Island area and fish in Boca Grande Pass."
As park manager of Gasparilla Island State Park, Cayo Costa, Don Pedro and Stump Pass, part of his mission on a daily basis includes managing and developing staff.
"Any supervisor understands the goal is to teach your staff to learn everything the manager does so one day they can eventually replace the manager," he said. "So mentoring is a big part of the job. It's also the most satisfying when you see your staff advance through their careers, knowing that you've helped them reach their goals."
He said park staff members help out wherever necessary, adding they all clean restrooms, pick up trash and answer questions from park patrons.
"We work as a team – there's a true camaraderie."
Rick and his rangers did a beach cleanup at Stump Pass State Park recently, removing several loads of dead fish from the beach. He has vast experience with beach cleanups as he was involved in the BP oil spill in Pensacola.
"We try to get out and be in each park at least once or twice each week at a minimum."
He said he's happy to see the sea turtles are having a strong year.
"I'm told our average is 16 to 18 nests at the park each year," he said. "And we had 36 this year. And we have 374 nests out on Cayo Costa, 121 of those have hatched already."
Rick said park administration have partnered with FGCU, and marine biology students are coming out to Cayo Costa with a supervisor and documenting turtle nests on the island.
"It's an all day job," he said. "When you cover all of that park, it's a seven or eight hour job just documenting the turtles. So having the students come out and do that has been a Godsend."
Rangers documented four nests hatched last weekend on state park property.
Rick manages four barrier island parks and a staff of about 20 full time people.
He said he is looking forward to working with Barrier Island Parks Society Executive Director Sharon McKenzie once season arrives, and also the Board and volunteers for the organization.
"They're an active group and that's great for us," he said. "I'm excited to work with them."
And he's hoping that Boca Grande will be lucky this year and not have to deal with any hurricanes heading this way.
Rick said working for the Florida Parks Service can be challenging in the summer months, and he is constantly reminding staff to keep hydrated and stay in the shade whenever possible.
"Being from Oregon, it took me about ten years to get acclimated to the weather here … you just learn to adjust. At least you usually get a breeze when you're near the beach."
When he is not working, Rick enjoys boating, fishing, and camping — anything outdoors.
Rick and Dana recently bought a motor home and hope to do some traveling and explore other parks around the state.
They presently live in Fort Myers with their two dogs: a Chihuahua named Weasel and a Yorkie named Shaggy.
When asked about his philosophy on life, Rick said "I believe in having fun – in work and every day in life – be responsible but have fun."