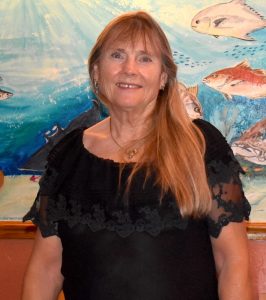 ■ BY SUE ERWIN
Patty Kitchen moved to Boca Grande in 1982, and she's been working on the island ever since. But now, with the closing and sale of the building that housed PJ's and The Grapevine, she finds herself in a new position, which poses the question: Should she move on to another job or decide it's time to retire? She's taking the summertime to assess the situation.
Patty was the mastermind behind the delicious lunch and
dinner options at The Grapevine for more than 24 years. She created the menus so customers could plan their dinner parties a month in advance.
Originally from Valparaiso, Indiana, Patty graduated from high school in Highland, Indiana. She moved to Florida with her boyfriend in the summer of 1973 in an effort to escape the cold winters. They headed south and landed on Anna Maria Island.
"That's the place he picked," Patty said. "We were 17 – young and in love – so I just followed him."
After living for a few years on Anna Maria Island, Patty moved to the Sanibel/Captiva area.
She became familiar with Boca Grande because she would come to fish by boat in Boca Grande Pass and off of Cayo Costa Island.
At that time, Miller's Marina was just a little shack on a dock that sold bait, and she and her husband at the time, Charlie, were invited to help out opening the new restaurant, formerly owned by Jack Harper.
"He needed help, and we were offered the work, but I was pregnant with my first child and didn't want take that on at the time," she said. "So we helped out after he was born."
After Miller's Restaurant opened, Patty worked as a server there for a few years.
Then she had her second child.
She is the mother of two sons: Joshua and Derek. Both of them live in the area. Josh is a landscaper, and Derek is a carpenter.
Patty is the grandmother of two boys: Zach, 10 and Blake, six. Zach will be starting 5th grade this year at The Island School.
Patty and her significant other, Gary, currently live in Gulf Cove.
After she left Miller's, she helped open up a restaurant called Garfield's at Palm Island in 1984, which is now
Leverock's Restaurant in Cape Haze.
For a while, she also worked as a server and bartender at South Seas Island Resort in Captiva Island.
In 1987 she left Garfield's to open up Uncle Henry's
Marina just off island.
From there, she was offered her most recent position at The Grapevine. She's worked in the kitchen there since 1994, making sandwiches, salads, sauces, desserts and performing a variety of other duties with the rest of the kitchen staff. She has also filled in as a server at PJ's from time to time during the busy winter months.
After opening several restaurants in the area and seeing each one get launched from the first day, this is, sadly, the first restaurant for which she has ever been a part of the closing team.
"It's very sad because I'm very close with all of the staff and all of the customers, and I miss not being able to see them every day. Since we've been here so long, our kids have grown up together, and many of us have become grandparents, so this has been a very hard experience. It's like breaking up a big family."
She recalls how popular the place quickly grew, and she was part of the team that started offering catered dinners, for which she would travel to people's homes around the island and cook dinners for small groups.
"That was all done through PJ's, and I really enjoyed doing the catering," she said.
Although the building is currently for sale, Patty still has been reporting to the office upstairs several days a week.
She has so many friends on the
island, it just seems natural for her to come and spend time here. Plus, she has been dropping Zach off at summer camp at the Boca Grande Community Center every day.
Throughout her years at The Grapevine, Patty was responsible for making the monthly menu that listed what kind of dinners were being planned for each evening.
"Many people depended on us for dinner, and they would schedule the whole month in advance as soon as they received a new menu," she said. "So I'm sure many of the seasonal residents are going to be disappointed when they return."
When she is not working, Patty
enjoys fishing and participating in
tarpon tournaments. She started out fishing in Redfish Pass when she lived on Captiva Island. She and Gary have a flats boat and an old stone
crab boat.
Patty also enjoys watercolor painting, drawing and doing puzzles.
"Painting really helps relax me," she said. "I like to put my easel outside and paint landscapes."
And she's kept very busy this summer making Lego creations with grandson Zach. They recently traveled to the East Coast of Florida to check out the Kennedy Space Center.
"He really enjoyed looking at the rockets, and we bought a little model to take home and put together," she said. "And we were able to talk with an astronaut who was in outer space. They connected us, and we could ask him questions … it was really fun."
After decades of working in the kitchen, you'd probably guess that cooking is another big hobby for Patty. She said there is a very important distinction between cooking and baking.
"Cooking is experimental; you can add different ingredients or a little bit of this or that – but baking is a science: You have to follow exact instructions to get the desired results."
Patty and Gary have a cat named Rocket, and two snakes – a ball python and a king snake. They also have a crested gecko named Luna.
The gecko was raised by Zach's best friend Willow, who, with the help of her mom, raised the tiny lizard from an egg. But Willow recently moved to Sarasota to attend a new school, so she asked Zach to take care of Luna since she couldn't take the reptile to her new home. The family also had a three-legged iguana named Ahab, who lived to be almost 17 years old.
When it comes to Patty's philosophy on life, she likes to keep it simple.
"Be honest and kind and treat people the way you want to be treated," she said. "And enjoy every day,
because life goes by so fast."