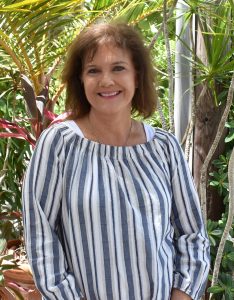 ■ BY SUE ERWIN
If you've visited Englewood Bank in the last several months, you may have noticed a new friendly face behind the counter.
Lisa Hannah is the new senior teller at the branch in Boca Grande.
Lisa is originally from Gatlinburg, Tennessee. She was born in Knoxville and raised in Gatlinburg in the craft community.
"You have to be an artisan to be a part of the craft community in Gatlinburg, and 90 percent of your items must be hand-crafted," Lisa said.
Growing up, her father Bill was a hotel/motel, nightclub and restaurant industry expert.
He started out as an innkeeper for Holiday Inn in Middle Tennessee, a portion of the state of Tennessee, delineated according to state law as the 41 counties in the middle of the state.
Lisa referred to herself as a hotel/motel brat.
"He became a hotel troubleshooter, and we would bounce around with him in the summer and on weekends and then go back to Gatlinburg during the week," she said.
Bill also opened Chevy's and T-Bird's Nightclubs in Georgia, Arkansas and Tennessee.
"He is an entrepreneur of everything and a master of none," Lisa said. "There was never a dull moment … I wanted to be just like him when I was growing up."
Her father is from Mississippi, and the family lived and farmed in the delta of Mississippi. They had more than 10,000 acres of cotton, rice and soybeans from 1974 through 1976 until a flood took the farm.
"So Daddy brought us back to Tennessee to do what he knew best, which was the hotel business," she said. "Farming can be rough stuff."
She recalls plowing the fields with her mother Joyce. One day, instead of plowing straight rows, her mom decided to have some fun and plow a few rows in a zigzag pattern, which surprised her dad when it was time to pick the fields.
Lisa's mom's parents owned 156 acres in Gatlinburg. Her grandfather was a brick and block mason who helped build the road across the Smoky Mountains in Gatlinburg.
"He was a true mountain man," she said. "He played the banjo nightly for entertainment."
When Lisa was a young girl, she saw Dolly Parton perform on a television show and learned that the young star lived just five miles away from her family. The family has
since sold much of the land, but they still own several cabins there.
Lisa has a younger brother, Steve, who lives in Tennessee and works for Mutual of Omaha Insurance. Steve enjoys fishing, and he owns several homes in Englewood. He rents them out to fishermen during the season and comes to stay at them and fish during the summer months.
Lisa was married for 25 years and has two sons, Beau, 36, and Taylor, 28. Taylor lives in Kentucky, and Beau lives in Tennessee.
Lisa is a grandmother to five-month-old Nola, Taylor's daughter.
"She was four months premature, but she's doing great now. I got to see her a few weeks ago."
Beau has come to Florida to visit his mom several times, but Taylor has not yet been here due to the new baby.
Lisa owned a restaurant called Doodles Barbecue Bistro in Knoxville that became quite popular because of her own BBQ sauce recipe. She had the sauce and seasoning recipe patented and still owns the rights to it today.
Although she truly enjoyed owning the business, she recalls that the experience was quite challenging.
"In the restaurant business, you pretty much work every single day, and you don't take any money home during the first five years," she said. "But I loved it, and I worked hard. I was there 16-plus hours a day and held just about every position, from working in the kitchen to managing the place."
She said everything was put on a large outdoor smoker and slow- cooked for about 12 to 14 hours. They sold out almost every day, so it was a very successful establishment.
But after working such long days for several years, the stress just became too much, and she decided to sell the restaurant.
She said that once she gets a smoker down here and some hickory wood chips, she'll make a lunch for the crew at the bank – which they have been inquiring about since she started working there.
Lisa currently has a significant other, Tom, whom she met through her mother. He caught her eye on a social media post, and her mom decided to play matchmaker for the couple, which ended up being a very good idea.
"We sent each other a few messages and decided to go on a date, and we've been together ever since."
When she is not working, Lisa enjoys kayaking, hiking and anything outdoors.
A true adventurer, while visiting Gatlinburg last month, she went tubing with her family in the falls and sprained her ankle when she crashed into some rocks under a waterfall.
For a while, Lisa lived with family on Douglas Lake Reservoir in Tennessee, known nationally for bass fishing tournaments.
One year ago Lisa was working as a teller at a bank in Tennessee. Her mom was living in Englewood, and she encouraged Lisa to move to Florida and embrace a new life, so Lisa moved here last October.
After taking some time to get settled, she walked into Englewood Bank last February and asked if they were hiring. An employee told her they always accept new applications, so she filled one out, and a week later she was called in to the Boca Grande branch for an interview. It just so happened that the former senior teller, Cannon Wenzel, had recently left the bank to take on a new opportunity with the Boca Grande Health Clinic Foundation, which opened up a spot on the island. It must have been immediately apparent at the interview that the soft-spoken, friendly gal from Tennessee was a perfect match for the island bank.
"Everybody at Englewood Bank is awesome. The girls I work with at the branch here are such wonderful people. I am truly honored to be a part of their team. They are all so unique, and we all work really well together."
As a senior teller at the bank, her duties are myriad, including taking care of personal and commercial deposits and withdrawals, various other transactions and handling the vault.
Her motto is, "If it's not going to matter 10 minutes from now, don't stress out about it. Pick your battles carefully, because you cannot control everything."