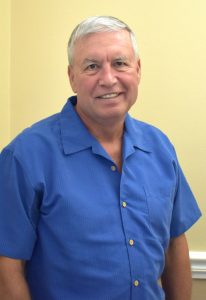 ■ BY SUE ERWIN
Boca Bay resident John Gibson started coming to the island in the 1980s, when the fish camp owned by CSX Railroad brought executives and locals together to catch their dinner.
John's family roots run deep in Southwest Florida. His mom's side of the family came to the Tampa area from Michigan in a covered wagon in the late 1800s.
If you are driving on Interstate 275 South, you'll pass an exit called Bearss, which is named after his mom's family.
The town near Tampa called Gibsonton is named after John's grandfather. "For a while that was the unofficial home to the 'carneys' of the Barnum and Bailey's Circus," John said.
His great, great-grandfather gave his great-grandfather some property near an orange farm. His grandmother and siblings each received lots along a spring-fed pond. "My mom and dad picked up my grandmother's lot, and I bought my great aunt's home two doors down," John said.
His mother, Betty Gibson, will be turning 87 years old this year. His brother Arthur also lives in Tampa on the same street.
John spends four or five days in Boca Grande each week and the rest of the time in Tampa.
"I like being here all year, especially when it's so quiet in the summer time," he said. "The fishing is great, and you have the island to yourself."
John was born in Tampa. His father was in the military, and the family lived in Okinawa for five years. They later moved to Atlanta and then to Washington, D.C. several years later.
John met his wife Gail in high school. They have been together for 50 years and are celebrating 45 years of marriage this year. They have two adopted daughters: Cassie and Dawn.
John has one grandson, Tristan, who is 7 years old.
"Tristan is probably better known on this island than I am," John said with a smile.
Cassie is expecting a child due this June. Cassie lives in Tampa and works at a Ford dealership, and Dawn is an ICU nurse at a hospital in Fort Myers.
After graduating from high school, John attended the University of Maryland and majored in economics and public administration. He earned an MBA in finance from American University.
After college, John worked for the Federal Railroad Association in Washington D.C. Several years later he accepted a job with CSX Railroad in 1983 and moved to Jacksonville, Florida.
"It was a fascinating industry to be a part of. The most efficient way to move something on land is steel wheel on top of steel rail: There is very little friction used to move very large containers."
He said that, like vehicular traffic, railroads can get congested, too. Winter storms can cause problems, and hurricanes in the South can interrupt schedules. Ice can also cause complications when switches and diversions need to be made on the routes.
Working his way up through the years, he earned the title of Vice President of Operations, Research and Planning at CSX. He was responsible for the daily operations of the organization, as well as passenger relations and contracts, and long-term strategic planning. His job included traveling to the various sites and inspecting the territories. He was also involved in political and charitable events, and he'd take politicians out and show them the lines.
"For the Kentucky Derby, we had a train that ran from Lexington to Louisville for the event," John said. "We also had a 'Santa Train' that ran through Appalachia giving out candy and toys for the children every year. We actually had a separate press car, because reporters came from all over the world to cover that."
After 27 years with the CSX, he retired in 2009. John and Gail bought their home on the island in 2008. It was through CSX that they were able to discover Boca Grande.
John had become friends with a colleague at CSX who also liked to fish, so John joined him on a trip in 1984, and they stayed at the CSX fishing lodge, where the Boca Bay fishing pier now exists. "We started coming down every year after that, and we brought customers with us," he said. "The phosphate dock was still here, so we'd also fish off of that."
John recalls that the lodge burned to the ground one night – he thinks it was probably due to a careless cigar smoker. No one was injured, but they lost all their personal belongings.
"It was a windy evening, and by the time the fire alarm went off, the ceiling was already on fire," he said.
There are now homes where the camp existed.
John travelled extensively for his career and now enjoys taking trips with Gail to Costa Rica, Portugal, Spain, Germany and France.
He and Gail celebrated their 40th wedding anniversary in Hawaii, and they're currently planning on visiting Hungary for the first time this summer. They will be accompanying Tampa Tennis Pro Gyorgyi Zsiros, who is from Hungary and will be going back to celebrate her mother's 60th birthday.
"We're really looking forward to the trip," John said.
When he is not working, John enjoys cooking, tennis, fishing and woodworking. He ran his first marathon when he turned 50. "I ran four of them and many half-marathons, but my knees decided it wasn't something I could keep doing," he said. Tennis is his main hobby these days.
For years, John volunteered his skills building Habitat for Humanity homes in Jacksonville. After he retired, he picked up woodworking as a hobby and has made several tables and frames for art in his home.
He still gets asked to do some consulting work for friends who work in transportation field.
When he was 60, he sailed across the Atlantic Ocean in a homemade boat.
"A guy from CSX actually built the boat in Chicago, and it was made out of steel," John said. Four of the guys flew to France and sailed across the Mediterranean to Morocco, the Strait of Gibraltar and the Canary Islands.
"Our boat was so slow, Columbus beat us by four days," he said. "Crossing the Atlantic I kept a diary, because I had to do something all day. I did a lot of introspection."
The boat sailed at about 4 knots through all kinds of water including heavy seas.
The whole trip took about six weeks, and the crossing took about 30 days.
John is a fan of Southwest Florida authors like Tim Dorsey, Randy Wayne White and John D. MacDonald.
One of his beliefs is that you should always be open to new hobbies.
"Being curious leads to learning, and there is always something new to learn."