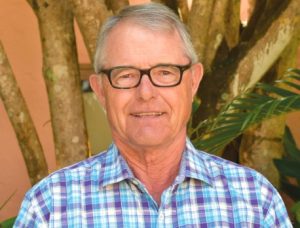 ■ BY SUE ERWIN
He's a friendly guy from Minnesota, and he's been enjoying a "Grande" life in Boca since he retired a few years ago.
Chuck Young is originally from Saint Paul, Minnesota. His father was a travelling construction superintendent, so the family moved all around the nation many times, but they always ended up back in their hometown. The construction business runs deep in the Young family – five generations, to be exact.
Chuck has two brothers and two sisters. Most currently live in Minnesota, except one sister who lives in Iowa.
After graduating from high school, he attended St. Cloud State University in central Minnesota, where he studied accounting. After college he went to work for a certified public accounting firm, and shortly thereafter he became a CPA. After four years, he went into business with his dad in the construction industry.
Chuck owned and managed Cy-Con, Inc., a construction company in Saint Paul, Minnesota for almost 50 years. He officially retired last year. While leading the business he oversaw about 50 employees. The company specialized in concrete structural restoration.
"We started out building bridges and roads for 25 years, and after that we switched to buildings and refreshing the architectural intent and appearance of general construction projects for another 25 years," he said.
His father was an engineer, and Chuck learned a lot about the field because the engineering projects in his business were either self-taught or hired from outside companies.
As president of his company, and since his background was in accounting, he was his own controller and ran the daily operations of the business. He said that once he asserted self-discipline, it was somewhat easy to be the boss, but it was also sometimes more difficult to direct the operations and deal with human elements of personnel.
"It wasn't always easy, but I was very fortunate, my employees were very good, hardworking people."
He eventually sold the business to his brother, who has since sold it to outsiders.
Chuck met his lovely wife, Joan, during his second year in college. They established a relationship on the tennis courts, and it turns out that not only were they a great match on the court, but off the court as well. They are celebrating 52 years of marriage this year.
"She is the main reason I began to seriously focus on school, work and life," Chuck said. "The highlight of my life has been and still is meeting my wife and sharing my life with her … she is my everything," Chuck said.
Chuck and Joan have two sons: Charles and Jason. They adopted Jason from Colombia when he was two years old.
Charles has two boys: C.J. and Ryan. Jason has a daughter, Tionna, 15, and she's the apple of Chuck's eye.
"If she wants anything, she gets it – we didn't have a daughter, so when she was born it was a real blessing."
Chuck and Joan have been coming to Boca Grande for the past 12 years.
Long-time residents of the island introduced them to the community by inviting them down for a golf tournament.
"We really liked it, so we rented a place for a month the next year, and we realized there was a very strong Minnesota connection on the island, so we decided to buy a place," he said. "We're here for about five months each season, and then we go back up north to the Twin Cities for the summer."
He and Joan have met some very good friends here, and they refer to them dearly as good, solid people.
"We've established a complete new social network down here, and when we come back each winter it's like no time has passed … we just plug right in to where we left off. It's just a fantastic and wonderful sense of community that you don't see much of these days. We're small, we're captive, and we're all here for the same reasons: recreation and social networking."
Chuck said he appreciates the endless amount of events that are offered by the Friends of Boca Grande throughout the season.
"No matter what your interests are – literature, history, art or politics – there is something here for everybody."
Chuck and Joan are avid tennis players, and they play at the Boca Bay Pass Club several times each week. He was the winner of the 2019 Gasparilla Island Tennis Classic 65+ doubles competition tournament that took place recently.
The Gasparilla Inn & Club started a tennis tournament in 1997 called "The Gasparilla Inn Tennis Chapter Series." The Inn hosted the annual event at the beach club until 2007. No one organized the tournament in 2008. In 2009, Boca Beacon Publisher Dusty Hopkins revived the tournament, becoming the new sponsor and renaming it "The Gasparilla Island Tennis Classic." He also opened competition up to all area residents and coordinated the matches to be held at all three clubs on the island. This year marked the 10th anniversary of the annual event.
Chuck wanted to send a reminder to the tournament sponsor – we still owe him a shirt.
Chuck and Joan are both regular golfers and hit the greens at Lemon Bay Golf Club a few times each week.
Joan was the club champ at Lemon Bay in 2012, and Chuck has been a club champ three times over the past several years.
"We host a couples group at the club, and we play together on Sunday afternoons. It's a lot of fun."
Sports have always been a big part of Chuck's life. As a kid he played just about everything. When he turned 30, he became interested in volleyball and played in a regional league for almost 10 years. He played in a league with the legendary basketball star Wilt "The Stilt" Chamberlain. The team competed in several national tournaments.
"The league I was in had teams that were the best in the state, and we would compete regionally and nationally," he said. "Volleyball wasn't a very big sport in those days unless you were out West. But being a part of the early days of the sport in the Northeast was really exciting."
Chuck is a social bridge player, and Joan plays twice a week with the Boca Grande duplicate bridge club.
"They say it's the best card game there is, because it's very complex and there are a couple of different ways of scoring," Chuck said. "In duplicate, you are scored by how well you did compared to the people who played with the same hand. It might just be the biggest single activity on the island during season."
Spring break is just around the corner, and both sons will be visiting Boca Grande in the next two weeks. All of the grandchildren will be here to enjoy a warm break from the cold Northern weather.
"We'll all be together – it's going to be wonderful – and the young ones aren't in school yet, so they'll be able to stay and visit a bit longer. We are really looking forward to it."