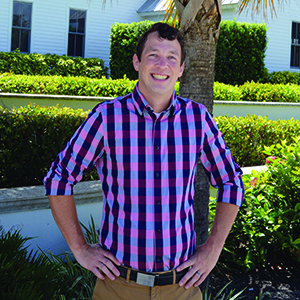 BY SUE ERWIN – Boca Grande Lighthouse Methodist Church Sunday School teacher Chas Jordan understands the importance of bridging the gap between faith and young people.
It is his personal mission to serve as a support outlet for kids who may have an understanding of religion, but who also may feel like they have no one who believes in them.
Chas is married to Tabitha, the minister to youth and families and also associate pastor at Boca Grande Lighthouse Methodist Church. The couple moved here in April, 2016 when she started that position.
Since then, the two have been holding weekly meetings for island youth.
"We call it the island youth group because we don't limit it to just Methodist Church attendees – we welcome everyone," Chas said.
Chas recently accepted a position as a Youth Life leader and will be serving students in the Charlotte County school system with an emphasis on L.A. Ainger Middle School and Lemon Bay High School.
"It's basically a ministry, but we operate in the schools with the students. It's a mentorship program where we provide members of the community an opportunity to mentor students and build relationships with them," Chas said.
Young Life is a nondenominational Christian ministry that reaches out to adolescents through volunteers, staff, club meetings, and camps by building positive relationships.
Young Life has an established program in Port Charlotte and Punta Gorda headed by Area Director Tom Parker. The organization has been trying to come into the Englewood/Boca Grande area for several years.
Chas's new position will reach out to youth in grades 6 through 12 in Boca Grande, Englewood and Gulf Cove.
"We want to support the students and the staff. I will be spending most of my days at the schools, meeting with kids in the cafeteria. I'll also be going to football practices and games bringing cold drinks and snacks. The goal is to try to develop relationships with the students and encourage them to make wise choices," he said.
Chas describes his position as more of a counselor without the formal title and without the intimidation of authority. It's more of a supportive kind of relationship.
"We're planning 'Club Nights' a couple of times each month to bring kids together to come and play games, do skits and undertake other fun activities to build positive relationships. All teenagers are welcome. If we can introduce youth to safe, fun activities during these fundamental years, that's a good step," he said.
Young Life was started more than 40 years ago in Colorado. Chas was exposed to a similar group when he was in high school.
Friends who volunteer at the Englewood United Methodist Church mentioned that they were searching for someone to implement a program in the Englewood area.
"I contacted the area director and sent him my resume," Chas said.
About a month later, he was offered the position, which he officially started on Aug. 15.
Over the summer months, Chas was working with about 15 to 20 kids weekly. Those numbers could easily triple as the school year progresses.
He plans to help out the Lemon Bay High School wrestling team, and Tabitha is the LBHS junior varsity volleyball coach.
"We saw a need for our work in this community, and we're really excited to be here."
Chas said that regardless of individual religious beliefs, he would not be averse to helping any student.
"You don't have to believe in God to be a part of this. We are open to embracing differences, and we are here to accept everyone," he said.
Chas is originally from Columbus, Georgia. After graduating from high school, he worked with "Youth with a Mission" in Australia for six months.
"I took a gap year between high school and college. I worked with Aboriginal communities trying to bridge relationships between the citizens and the government there," he said. Possessing the ability to speak Spanish fluently, Chas has been on ten Latin American missions, spending time in Bolivia, Venezuela, Ecuador and Colombia. During those trips, he helped educate people on how to build crops and manage them. So the students were able to get an education as well as learn practical skills to take back to their communities.
Chas said he is proud of the work his team members have achieved with children over the years.
"Almost all of the students we have tutored have shown improvement in character development and academic achievement," he said.
He recalls one particular 10-year-old who was struggling with math and ready to give up until one of the tutors told the child he believed in him. The student started crying and said it was the first time anyone had ever said that to him.
"That reassurance was needed, and that changed the way he thought about himself from that point on. His grade went from an F to a B that year."
Chas studied business administration and international business at Columbus State University. After that, he went on to pursue a master's degree in world missions and evangelism at Asbury Theological Seminary in Wilmore, Kentucky. That's where he met Tabitha. He then pursued another master's degree at the University of Kentucky, where he studied diplomacy and international commerce.
"My focus was economic and human development and national security and intelligence. What's really interesting is where all the parts merge. My degrees focus on intercultural studies and the merging of different cultures – especially when countries have been torn apart by war," he said.
Chas and Tabitha enjoy camping, rock climbing, hiking and many different kinds of sports. They have also taken up paddle boarding since moving to Boca Grande.
"It's really amazing to get to see all of the marine life. We've seen manatees and dolphins – that's been unique," Chas said.
He's also been fishing several times and said he has caught his share of snook.
"We're adjusting well, but I admit I really do miss snow skiing," he said. "We're hoping to take a trip to Niagara Falls toward the end of the year."
They have one cat, Simba, which they brought with them in April when they moved to Boca Grande. The church offered free temporary housing for the summer, which allowed them to search for a home in the area. They moved into their new residence in Rotonda in July.
"It worked out very nicely. We found a location and a place we really like," Chas said.
Chas is inviting volunteer community leaders to come and develop relationships and help mentor the students.
"We would love for more people to get involved. If you have a heart for our students and if you're willing to show up and help, we can use your help," he said.
Anyone interested is getting involved can call him at (706) 577-5043, or you can email him at
chasjordan2006@gmail.com.