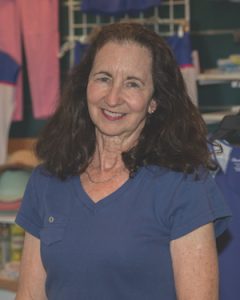 BY SUE ERWIN – If you've spent time at the Boca Bay Pass Club over the past 25 years or so, you'd surely recognize the kind face of Carolyn Gumula.
Carolyn has worked in the tennis shop at the Club since November, 1992. She started out as a seasonal employee and the next year became full-time. She eventually became the sports facility manager. She manages the tennis courts, fitness center, fitness/aqua classes, the scheduling for the tennis courts, lessons, clinics, as well as the appointments for the personal trainers and massage therapist. She also manages the Pass Club Shoppe, where she buys and merchandises the tennis/resort clothes and handles lots of laundry.
When she started, the Club had only a residential-style washer and dryer, and it wasn't enough, so Carolyn ended up taking loads of towels home with her to wash and dry at night.
The Pass Club has almost 500 members and continues to grow. "We stay very busy throughout the season," Carolyn said. "Thank goodness we have such a wonderful staff." She said she's going to miss them all: Assistant Manager Sharon Dietrich (15 years at the Club), Cathy Hartwig (seven years) Vicki Hurst (three years) and Debbie Disney (two years), who are part of the team in the tennis shop, as well as Massage Therapist Susan Brennan (20 years), Personal Trainers Jennifer Haranda, Perry Smiley and Staci Sparks, Maintenance Supervisor Hank Johnson, Tennis Pro Skylar Warren and Director H Wetzel.
Her dedication to the tennis program and its players has garnered Carolyn many loyal friends. She started out when Jeff Solomon was the director of tennis, and then Sam Garcia became the director for the next ten years. "Sam really built the tennis program at the Club," Carolyn said. "He would plan weekend mixers, clinics, starlight mixers and other events to get the members involved."
After Sam left, H Wetzel became the tennis director and still holds that position today. "For 15 years H has really grown and added to that program," she said. "We all love his delightful and incredible sense of humor. Working with him has been such a joy."
The Club was new when Carolyn started working there, so she was involved with everything – maintenance and even helping with parties and big events. "We did everything back then. We didn't use outside companies, we re-surfaced and put the clay down on the courts ourselves. Everything was done in-house, and I learned a lot about tennis courts for someone who did not play tennis."
During the summers she also helped caulk, sand and paint the clubhouse. "We used to call it paint camp," she said.
Carolyn is originally from Tallahassee. She graduated from Florida State University, where her father was a professor and head of the management department. Her mom was passionate about preservation and was instrumental in saving the State Capitol and numerous other historical structures in Tallahassee.
"She is the person I most admire," she said. Carolyn and her siblings attended Principia High School, a school for Christian Scientists in St. Louis, Missouri. At Florida State she double-majored in French and education, and she was a member of the Chi Omega sorority. She met her husband Mark at the library during her senior year at Florida State. He was just finishing up his master's degree in urban and regional planning.
Carolyn and Mark live just off-island in Cape Haze. They have been married for 43 years. The Gumulas designed and built their home 30 years ago. "It has a lot of sweat
equity in it," she said.
Carolyn and Mark have four children. Their oldest, Mark, is a CPA in Orlando, where he lives with his wife Irene, an accountant. They're expecting a baby girl in July. Son John is a programmer/analyst for FIS. He and wife Stacy, a VP at Citigroup, live in Tampa. They have two children: Connor, nine, and Addie, seven. Daughter Nancy lives in Tampa and is a professional project manager for Korn Ferry. Son Andrew lives in Los Angeles, California and is an assistant director at the Beverly Hills Hilton.
"We've never been there, so we're hoping to visit him later this summer," she said. "Our children are our pride and joy. I was so fortunate to be able to stay home until the youngest started pre-school. Those were truly cherished years. Our children are all very hard-working and kind. I am very proud of them. They are our biggest blessing."
The kids usually come to Cape Haze to celebrate the holidays. Husband Mark is retired. During his career he worked in coastal management, urban and regional planning, and transportation planning at the local, state and federal levels. The family lived in Sarasota while Mark was the planning director of Longboat Key, and in Charlotte County while Mark was community development director and later the director for the Charlotte-Punta Gorda MPO.
Carolyn has worked for a total of nine managers at the Pass Club. "I really have appreciated the opportunity to work with so many wonderful people," she said. Through the years, Carolyn has helped out with special events at the Club, and even assisted with some of the members' private parties.
When she is not working, Carolyn enjoys cooking, reading and rowing with the Lemon Bay Crew Club several times a week. She's been passionate about rowing for the past 14 years.
After years of working at the tennis shop, she said she may finally learn to play tennis.
On Wednesday, April 4, members of the Boca Bay Pass Club and other dear friends celebrated the bittersweet retirement of Carolyn. Members and friends gave her a beautiful tennis bracelet in honor of her dedicated years of service at the Club.
"They gave me such a beautiful tribute at the party, it was such a surprise, and I am so thankful to each and every person who took time planning it," Carolyn said. "It was so fun and unlike my actual life … it was really hilarious."
(See her letter to the editor in today's paper on page 6, where she thanks individuals at the Club for their efforts.)
Carolyn will remain on staff at the Club until August 5. She's looking forward to retirement and spending more time with her husband, children and grandchildren. She'd also like to do some traveling and volunteer work in the community. "We've had very blessed lives, and we want to be able to give back to others," she said.
Saying goodbye to Boca Grande won't be easy, and she knows she'll be back to visit friends from time to time.
"Boca Grande is truly a magical place … and it's very hard to leave …but it's time," she said. "I've never known another community where the people care so much about one another, and I feel blessed that I could be a part of it."