■ BY SUE ERWIN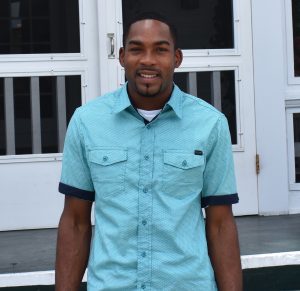 Carlinton Sinclair loves the weather and the island lifestyle of Boca Grande. The first-class fishing and warm sunny days remind him of growing up in Montego Bay, Jamaica.
He began working in the hospitality field in a hotel in Montego Bay when he was in high school.
After graduating, he attended college at the National Training Association in Jamaica. He studied electronic installation and hospitality and graduated two years later. Carlinton recalls his childhood in Jamaica as very relaxed and carefree.
"After school we'd run around the island all afternoon," he said. "I ran track and field for a club, and we would play soccer and fish almost every day. There were rivers all around us, and my high school was right in Montego Bay, very close to my home."
Carlinton has two older sisters, two younger sisters and one younger brother.
After graduating from high school he worked at the post office. He also worked in a store as a sales clerk, an audiovisual technician and an electrical installation specialist. Then he went back to the hospitality field and worked in housekeeping at several resorts in Montego Bay.
"I like to stay busy, and I never turn down work," he said. "I am always interested in learning new things or doing something productive."
Several years ago he received word from a friend that representatives from The Gasparilla Inn & Club were going to be holding an event to recruit new employees at a job fair for the hotel in Boca Grande. He believed he had a good amount of experience that would qualify him for a job, so he applied.
"I interviewed, and they offered me a position that day," he said. "Coming here for the first season, it was very much like home. The weather is very similar, very tropical."
He had never visited Florida, or the United States, before that time. That was in 2009. Eight years later, he is now in charge of a housekeeping crew. He said that as a child growing up, he often wondered what it would be to like to live in the United States and aspired to live and work here at some point in the future. The biggest difference he noticed after living here is the scenery.
"There are no mountains, and everything is very flat. It's nice but very different. It's a pleasant place to be and a great place to work and live. It's quiet and very peaceful," he said.
Carlinton enjoys working as a supervisor in housekeeping at The Inn. Part of his job includes training new staff, and he also manages employees who live in the dorm.
"Sometimes they will lose the keys to their apartment, or they might need help with some other problem," he said. "We are like a family. I am always there, and they know they can call on me or knock on my door at any time."
Carlinton started out working in the laundry unit at The Inn. He has also worked as a carpet technician and has shared his skills as an audiovisual technician as well.
"I like working with computers and setting up the microphone, screen and projector. It's a good combination of my electrical training and my audiovisual knowledge."
What he likes best about working in Boca Grande is the people.
"It's interesting to meet people from different parts of the world and to learn about their cultures … and it's also interesting to see how much we all have in common," he said. "And when the guests show appreciation and say how much they are looking forward to coming back – that just makes me think we must be doing something good. It's very encouraging."
Carlinton tries to make other employees feel at home by being there and supporting them. He likes to be jovial with the staff, yet stay focused on work and respectful of each other at the same time. Carlinton has been a "turn-down" supervisor for the past five years. He also works as a relief supervisor for the laundry department. His hours fluctuate between days and afternoons, and he usually works five to six days per week.
"I will help out wherever I am needed. I love my job. Everyone is friendly and helpful."
As a supervisor, he is also responsible for training new employees.
"Some of the kids have just graduated from high school, and this is the first job they have ever had. It's interesting to see them so nervous on their first day, and then they are so confident just a couple of weeks later," he said.
He said being a role model for the younger kids is what keeps him motivated at work.
"My philosophy is that we work together as a team, and I like teaching people about the hospitality industry," Carlinton said. "It's also very interesting meeting the guests who come from all over the world. Every day is like a new learning experience."
Carlinton met his wife, Orecia, in Montego Bay. They have been married for seven years. This was the first season Orecia has worked at The Inn. She helped out making pastries and other desserts in the kitchen.
They have two children: Orlinton, five, and Orion, three. They also have another child on the way. The kids stay with Orecia's mother in Montego Bay while their parents work in Boca Grande.
Last week Carlinton went to Cape Cod, Massachusetts, where he'll work at another resort up north for the summer. This will be his second summer at the resort.
Orecia went back to be with her family in Montego Bay for the summer.
Carlinton said he enjoys his summer job because of the weather and the location.
"It's very beautiful there. I really enjoy spending the summer there," he said. "It's a also a little different. It is more fast- paced, and the weather is cooler. But if I could choose, I would choose to stay here all year."
Carlinton's mom, Patricia Davis, is a United States citizen and lives in West Palm Beach. He has gone to the East Coast to visit her quite a few times, but he prefers the slower, more relaxing atmosphere of this area.
"It's very busy on that coast. There are so many people … I like the peace and quiet of the island," he said.
When he is not working, Carlinton enjoys playing soccer, running and going fishing from bridges and the pier. He once caught a sheepshead from the pier that weighed almost 15 pounds, and it provided several delicious meals.
"A few guys at The Inn play soccer, and we put a tournament together a few years ago and played at the dog park," he said.
Carlington plans to return to the island in October for another season in Boca Grande.