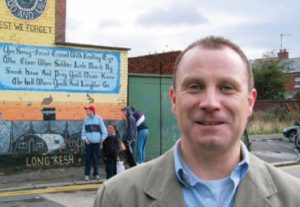 ■ STAFF REPORT
After working for decades to put an end to armed conflict in Ireland, the Rev. Gary Mason knows a lot about peace.
A Methodist minister living in Belfast, Ireland, Mason played an integral role in the Northern Irish peace process and now directs Rethinking Conflicts, an organization dedicated to resolving differences without violence.
Rev. Mason will speak at the Boca Grande United Methodist Church on Monday, March 19 at 10 a.m. His remarks, "Peace Building in a Faith Context," are free and open to the public.
In 2009 and after 40 years of fighting, the Ulster Volunteer Force and the Red Hand Commando announced their weapons decommissioning in Mason's church – the only group of combatants to take such an important step toward peace in a church setting.
In November 2012, Mason played a key role in opening the Skainos Community Center in Belfast. The center, which has been called a model of co-existence and shared space, focuses on employment, homelessness, community and family support and "social enterprise" projects.
Mason believes the biggest issue for Skainos may be its role in helping to reunite a society that has a legacy of passing dispute and danger from one generation to the next.
"How do you take people from being prisoners of history to being prisoners of hope?" Mason once asked in an interview with the United Methodist News Service.
The minister has spoken at political and religious gatherings across Ireland, the Middle East, South America, South Africa and Europe, seeking to share the lessons to be learned from the Irish peace process. The importance of his work has been acknowledged by the Queen of England and former U.S. President Bill Clinton.
"The insights that Gary shares about resolving conflicts are especially relevant as we approach Holy Week, a time of spiritual renewal and focus on Jesus' teachings of love and forgiveness," said Rev. Matthew Williams, pastor of the Boca Grande United Methodist Church.
Williams, who visited the Skainos Center last year, said he was overwhelmed by the work being done there. "I encourage everyone in our community to join us to hear the important lessons this peace-loving man has to share."