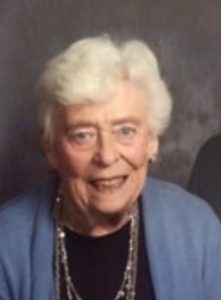 Joan Carol Van Zoeren (Hurley), age 86, of Kalamazoo died September 6, 2018. Joan was born December 15, 1931 in Huron, South Dakota to Harland and Edith (Schumann) Hurley and was raised in Chicago. She met Charles Van Zoeren at Ripon College in Ripon WI. She graduated in 1953 and was elected to Phi Beta Kappa. Chuck and Jo married June 12, 1954.
After moving to Kalamazoo she earned Master's degrees in Political Science and Library Science from Western Michigan University. In the mid-1980s, Chuck and Jo lived in Washington DC for a year, where she put these degrees to good use volunteering full time for the Smithsonian Institute and The Library of Congress.
Jo was committed to Public Service to improving the Kalamazoo community that she loved. A long time member and past president of the League of Women Voters, she also worked for several years in regional government and was a strong advocate of the Racial Balance Plan in the Kalamazoo Public School in the 1970s. She served for nine years as a trustee of the inaugural Board of the Kalamazoo Public Library, including as President as well as leadership of Youth Literacy programs. She also served twenty years as a Director of the First National Bank & Trust of Michigan, and for nine years on the Board of the Kalamazoo Symphony Orchestra.
Jo and Chuck travelled extensively, not only throughout the US, but also to all seven continents. In many cases, they demonstrated this commitment to public service beyond their immediate community. They volunteered for Rotary International projects in India and Haiti, and for several months-long efforts with Lutheran Church relief efforts for victims of Hurricane Katrina in Ocean Springs MS in 2005 and 2006. Jo was equally committed to education and life-long learning.
A voracious reader, she enjoyed book clubs and literary groups in Kalamazoo and Boca Grande FL, where they spent many winters and where she volunteered at the local library. Jo also enjoyed gardening, biking, swimming and water exercise classes at the YMCA. Survivors include Chuck, her husband of 64 years; three children, Jim (Cindy) Van Zoeren of Kalamazoo, Tom (Becky) Van Zoeren of Alexandria VA, and Carol Van Zoeren of Wilmington DE; Four grandchildren, Eliza, Caroline, AJ and Jenna. She was preceded in death by her parents. A memorial service will be held Saturday September 29 and 11:00 am at Trinity Lutheran Church, 504 S. Westnedge Ave, Kalamazoo MI. Memorials may be sent to Trinity Lutheran Church, Kalamazoo Loaves and Fishes, the Kalamazoo Public Library Children's Services, or a charity of your choice