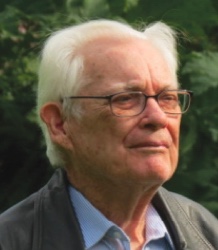 Charles C. Whitaker II, best known as Sonny, passed away on October 10, 2018 in Tampa, Florida.
Sonny was born in Tampa on June 12, 1920 to parents Karl E and Olivia Moody Whitaker. He attended H.B. Plant High School and the University of Florida.
He was a member of the Sigma Nu fraternity. He was married to Mary Frances Whitaker for 68 years. Mary Frances predeceased him on March 28, 2014.
Sonny, or "Whit" for those who knew him after the war, loved Tampa, fishing and telling long stories. As a boy, when not sailing the bay in his Fish Class, the Black Skimmer, he worked toward his Eagle Scout in Troop 4, which he achieved at age 15.
He joined the United States Army on September 20, 1941 and trained in Alabama and Australia.  As a 1st Lieutenant in the 503rd Parachute Infantry Regiment on July 2, 1944 he jumped on Noemfoor off the coast of Dutch New Guinea. When advancing into the island jungle he was shot. Convalescing at Northington General Hospital in Tuscaloosa, Alabama he met and married Mary Frances in 1945.
Returning to Florida, he     obtained his undergraduate degree from the University of Florida (UF) then graduated from UF law school in 1948.  He joined the Florida Bar the same year and beginning practicing in his father and grandfather's law firm in Tampa.  In 1968 he, along with fellow friends and attorneys who also loved Florida, founded the law firm Holland and Knight.
He was a board member of the Exchange National Bank, (subsequently Nations Bank, then Bank of America), from 1959 to 1982.  He followed in his father Karl E. Whitaker's footsteps, who was an Exchange Bank Director from 1919-1961. His grandfather, Charles C. Whitaker, was a director from 1903-1953, and served as former bank board chairman.
Pop adored his grandchildren, Andrew Whitaker Frame, Austin Knight Whitaker and William Sparkman Whitaker. He is survived by his son Charles C. Whitaker III (Ellen Knight) of Tampa, daughter Amanda Whitaker Frame (Martin) of London, England, step-grandson USN Lieutenant Commander Richard S. Westerfield, and his loving and faithful caregiver, Sharon.
In lieu of flowers please make contributions to the Southeastern Guide Dogs' Paws for Patriots program or a charity of your choice.
Family graveside services will be held at the Pioneer Whitaker Cemetery in Sarasota on October 23. For more information go to blountcurrymacdill.com