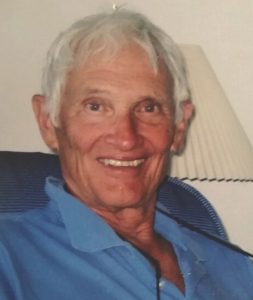 Calvert Cottrell Groton, 87, of Boca Grande died on December 25, 2017.
He was the youngest son of the Rev. John Mansfield Groton and Anngenette Cottrell Groton of Westerly, R.I.
He is survived by his wife, Louise (Loulie) Mauran; his children, Anne Jacobs of Yarmouth, ME, Virginia Goelz of Briarcliff, NY, Calvert Groton, Jr. of Dedham, MA; his nine grandchildren; and his sister, Anngenette Tyler.
He was predeceased by his first wife, Mary Jane Clark Groton (1954-1976); his second wife, Constance Wolcott Groton (1978-2003); and his brothers John Groton Jr. and William Groton, MD. He is survived by Connie's daughters, Patricia O'Loughlin of Bedford, N.H. and Pamela Cerne of Wayland, Mass.; and their five children. He is also survived by Loulie's daughters Marion Mariner of Providence, R.I.; Louise Nadler of Marion, Mass.; Hope Mauran of New Palz, N.Y.; Harriette Merrill of Morrisville, Vt.;     Margaret Zuccotti of Jenkintown, PA; their 13 children and a grandson.
Mr. Groton graduated from Episcopal Academy (1948), Harvard College (1952), and Harvard Law School (1957). He served in the U.S. Navy as Communications Officer and Officer of the Deck underway on the destroyer escort USS Huse (1952-1954).
He began his law career in 1957 as an associate at Edwards & Angell, LLP (now Locke Lord LLP) in Providence, became a partner, and was a member of the RI and Florida Bar Associations. He specialized in corporate finance and then trusts & estates until he retired in 2003.
He had numerous civic and philanthropic interests, and in 2006 received the Harold B. Soloveitzik Professional Leadership Award from The Rhode Island Foundation. He served on the boards of the VNA of R.I., Westerly Hospital Foundation, R.I. Renal Institute, Weekapaug Fire District (Moderator 1970-1974), R.I. Industrial Facilities Corp, and Industrial Foundation of R.I. He especially enjoyed the Westerly area, Manasota Key, and Boca Grande beaches and, concerned for their environmental protection, served on the boards of the R.I. Scenic Roadways, R.I. Audubon Society, Westerly Land Trust, Nope's Island Association, and supported Lemon Bay Conservancy. He was a Junior and Senior Warden at St. Martin's Episcopal Church, and board Member of the Episcopal Diocese of R.I., Episcopal Divinity School, Weekapaug Chapel Society, The Wheeler School, Harvard Club of R.I., Weekapaug Tennis Club, and Agawam Hunt. At the time of his death, he was a member of St. Andrews Episcopal Church and the Gasparilla Inn & Club in Boca Grande.
The family is profoundly grateful to the staff at My Halo, Legacy Memory Care, and Compassus Hospice who have cared for Mr. Groton and his family.
A Memorial Service will be held on January 6 at 11 a.m. at Christ Church, 7 Elm Street, Westerly, R.I. 02891. In lieu of flowers, contributions to The Wheeler School, 216 Hope
You may share your stories online at lindquistfuneralhome.com