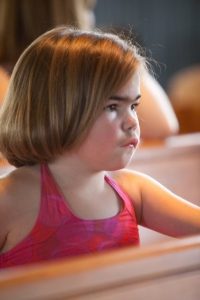 Blair Elizabeth Chapin of Orlando died peacefully surrounded by her parents, Susan and Roger Chapin, her younger sister Grey (13) and her beloved standard poodle Henri on April 4, 2017.
A funny and loving child with a smile that could light up a room and a laugh that was contagious, Blair never met a stranger. She loved listening to music, watching a large purple dinosaur, Barney, and all animals, especially her therapy horses. She looked forward to vacations in Boca Grande that included golf cart rides, boating, shelling and family gatherings. And even as her body faltered, Blair's unflagging spirit and smile sustained all around her.
More than anything, Blair loved her family. She had nicknames for some and funny word associations for others. She loved to visit both sets of grandparents, Linda and Bruce Chapin on Lake Conway and Sue and Jerry Chicone on Lake Butler. She developed unique bonds with each of her aunts and uncles and was adored by all of her cousins. Blair was blessed to be nurtured by many loving teachers, caregivers, therapists, doctors and nurses.
Blair's best friend was her sister, Grey, who served as gentle comforter, informed advocate and fierce protector. It was Grey who conceived the "Purple Lemonade Stand for Courage" as a fundraiser for research for Sanfilippo Syndrome, and it was a host of her friends who made it an annual event that spread across the country.
Blair's time on this earth was not long. She was only fifteen, but it is impossible to measure her life's impact in years. Her joy in small moments taught others to appreciate each day. Her love of life and infectious smile drew in strangers who became second family. Her courage inspired those who climbed mountains in her honor; celebrities like Jimmy Buffett, Davis Gaines and Emmylou Harris, who joined in a research fundraiser, "Sing for Blair"; and a classmate who dedicated an original song and social media campaign, "I Won't Let Go."
A memorial service will be held at Lake Highland's Middle School Charles Clayton Campus in the Bourne Chapel, 741 N. Mills Avenue, Orlando on Saturday, April 8 at 10AM. Relatives and friends kindly invited. Arrangements entrusted to Baldwin Fairchild Ivanhoe. In lieu of flowers the family requests that donations be made to the Cure Sanfilippo Foundation, P.O. Box 6901, Columbia, SC 29260. www.curesff.org or via Luke McMahon's "I Won't Let Go Campaign" here: https://www.gofundme.com/iwontletgo