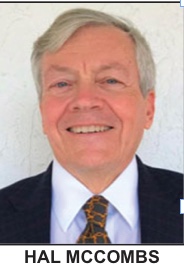 ■ BY MARCY SHORTUSE
The Royal Palm Players will start their 2017-18 season this November with a look at male/female relationships and a new president named Hal McCombs … and Hal is hoping you will join in the fun.
McCombs is a retired Washington D.C. attorney (one of "those" lawyers, as he put it), and he and his wife, Lynne, have a home on the island on Wheeler Road. They started coming to the island about 30 years ago, following in the footsteps of his in-laws, Bob and Barbara Marmet. The Marmets have since passed away, and Hal and Lynne bought their house here in 2014.
It was a friend of Bob and Barbara named Jane Schlegel who brought Hal in to the RPP circle.
"She roped me into reading for the Armchair Theater production," he said. "Then Dan Headington came up to me and asked if I wanted to be in 'Oklahoma.' I had an audition, they put me in; it started off from there. I had never done theater before that, and I just had a lot of fun with it. That year we also did 'The Actor's Nightmare,' 'Hello Dolly' and 'The Ideal Husband.' It was great, and it was exhausting!"
McCombs said that while he has been on the RPP board for more than a year, he was pleasantly surprised to be asked to be president.
"Jim Sullivan was leaving as president, and he thought I might do a good job," he said. "Apparently, so did the rest of the board. I took it as a huge compliment."
McCombs said one of his biggest priorities as RPP president is to draw more members of the community into their midst. It's not all about acting on the stage, he said; there are support roles that are vital to theater productions that need to be filled.
"I'm looking to try to get more people involved. We are a community theater, we function in the Community Center, and we are physically in the heart of the community," he said. "We need people on the stage, people in the audience, people doing props, people to help rehearse dancing and music. It all creates community. I think there's a perception that if you're going to be involved, it means you're going to be on stage. People can be involved in so many different ways."
Hal said he's very exciting about this season's shows, which include a staged reading of the Peter Quilter's duet comedy aptly titled "Duets," Woody Allen's "Don't Drink the Water" with director Tad Ingram, "My Fair Lady" with New York director Joshua Chase Gold, and "Mame," starring Lynda Jamison.
"We're going to have some great shows this year," he said. " 'Don't Drink the Water' is a hilarious comedy, and one of Woody Allen's first big successes. It's still very timely and funny. 'Duets,' with director Meryl Shafer, should be going into rehearsals very soon, and I'm also happy to report that while 'My Fair Lady' is set to hit New York in April of 2018, we will be putting it on first. So come see it here, then go see it there."