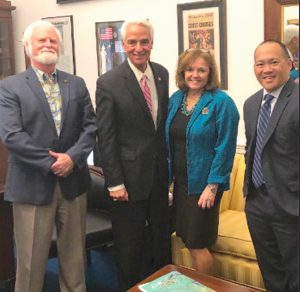 To the Editor:
Mote Marine Laboratory's leader shared red tide science to inform national policymakers yesterday, Sept. 27, on Capitol Hill in Washington, D.C. Mote President & CEO Dr. Michael P. Crosby served as a panelist during a red tide briefing at the Capitol to provide an overview of Florida red tide, discuss Mote's current rapid response efforts to the ongoing bloom, and present a vision for the future with the exploration of new mitigation strategies and creation of an independent, Florida-based Marine and Freshwater Harmful Algal Bloom (HAB) Center.
Ocean Conservancy and Citizens' Climate Lobby hosted the briefing, with honorary hosts U.S. senators Bill Nelson and Marco Rubio.
After presenting an overview of the scientific understanding of Florida red tide caused by the alga Karenia brevis, Crosby discussed the research and rapid response activities aided by recently announced State of Florida funding, including: Assessing impacts to southwest Florida fisheries and launching a major stock enhancement program; ramping up response capabilities for sea turtle and marine mammal strandings; determining airborne toxin impacts to humans; increasing water quality monitoring; and testing innovative mitigation approaches for red tide.
Mote – an independent, nonprofit, marine science institution – leads innovative red tide research and shares results objectively as possible, informing federal and state legislators, resource management agency leaders, and others who make societal decisions relevant to the oceans and the communities that depend on them. Mote's research, monitoring and public information on red tide are made possible, in great part, through competitive government grants and appropriations.
During the panel, Crosby thanked senators Rubio and Nelson for hosting the briefing and also recognized Congressman Vern Buchanan for his relentless attention to addressing red tide. "Mr. Buchanan has long been a leader and champion in fighting red tide with a strong record of legislative support for funding much-needed red tide research and mitigation efforts," stated Crosby.
Jeff Watters, Director, Government Relations for Ocean Conservancy, discussed the importance of the briefing: "Florida's beaches are in need of help. It is critical that Florida's elected officials address this with urgency and alongside the people and agencies that work to make this state's waters some of the most enjoyed and visited in the world."
Crosby also presented a vision for much more that needs to be done through the creation of an independent, Florida-based, Marine and Freshwater Harmful Algal Bloom (HAB) Center. This innovative, five-year initiative would focus on utilizing applied science and technology development to control and mitigate impacts of red tide. If the HAB Center initiative is funded, Crosby said, "Mote will look forward to expanding collaborations through this HAB Center with scientific partners around the world and local communities to provide increasingly impactful, independent and objective red tide research and mitigation breakthroughs."
Stephanie Kettle
Public Relations Manager
Mote Marine Laboratory & Aquarium,
Sarasota