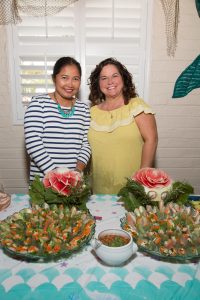 To the Editor:
Last Friday's Ladies Day Captain's Party buffett was catered by Karen Kelley and Dan Nuzzi and the theme for the food was "what a mermaid eats." We served steamed shrimp, seaweed salad, crab stuffed mushrooms and salmon on cucumber bites. We also had fish and chips, fresh snapper parmesan and Robert's lobster and shrimp risotto.
Special thanks to Jintana Nuzzi for hand rolling and serving the shrimp and chicken summer rolls with peanut chili sauce. Also for carving the spectacular watermelon flowers.
A very Special thanks to David Bartels for all your decorating help, to PJ's Seagrille and Kathleen Turner for help with our "bubble" balloons and to Wesley Locke and Sara Joiner for their help with the balloons.
And last but certainly not least, thank you to Ian Bell for being our "everything" guy in the kitchen. We could not have done it without you.
Thank you to all who helped with break down and cleanup of the party. It's so nice to see happy faces, old and new, jumping in to help. We are very happy to be a part of the Boca Grande Chamber Community.
Karen Kelley
Dan Nuzzi