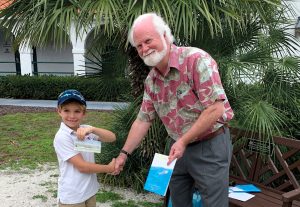 To the Editor:
I want to say thank you for all of your help. You are so nice to tell others about my book. I could not have had the opportunities with out your help. You guys do such a great job each week. And a special thanks to Piper's mom, Mrs. Shortuse, for calling me an author.
I also want to thank some others.  Thank you to:
– Mrs. Carolyn at The Tides bookstore. You did so much for my book signing, and you give me the best gifts. I like how your store has candy, too.
– Ms. Ashley at Mote Marine Boca Grande for meeting with me and talking about marine biology. Also for helping me meet Dr. Crosby.
– All of the stores that are selling my book: Gasparilla Inn, BIPS Lighthouse Gift Shop, UPS Store in Placida (and the man there who donated $3 dollars for Mote), The Tides & Boca Blooms
– My principal, Mrs. Thompson, for buying lots of my books and telling everyone about it.
– My grandparents for buying a lot of my books, too.
– Ms. Robin, at Serbin Publishing, for liking my book and publishing it.
– The anonymous donor who purchased 20 books to present to different schools to help kids with reading
– Mote CEO and President, Dr. Crosby – I had so much fun meeting you last week. Thank you for all of my cool gifts and for offering me a job at Mote if I keep working hard. And thank you to everyone who has bought my book. I was able to donate a dollar of every book printed and gave my first donation to Mote for $503. I am very excited to continue to raise money for Mote.
Reel it in,
Hampton Boney
2nd grader at The Island School