■ BY MARCY SHORTUSE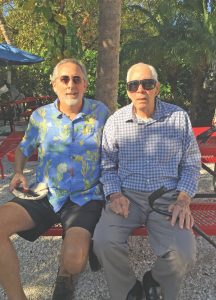 Lowell Bell sat on a park bench, staring down Park Avenue one morning, amazed at what he was seeing. While the 82-year-old had visited Boca Grande a few years ago, it was only a short visit, and he hadn't had a chance to soak the island in. Once he did, he realized just how much has changed in his hometown.
"I hadn't been back since 2011," he said. "I'm still amazed at how much more is here now. I just can't believe it. There's more houses, so many more people. "It's beautiful … but it's not Boca Grande. Not what I knew."
Lowell was born to Angelo and Myrtle Padilla Bell on January 10, 1935 (he is proud to say he is two days younger than Elvis), at the south end of the island. His father was the chief engineer at the Power House for 20 years, and the house Lowell's family lived in was located right about where the center of the lake behind the Power House is now.
What makes this story so amazing is how deep the Bell family lines run through our area. Lowell's father was born in Charlotte Harbor Town, which as we know it was at the US 41 bridge on the Port Charlotte side. Angelo built boats at a business located not far from where Fishermen's Village is now, and he built the very first Boca Grande pilot boat, called "Comet."
Myrtle Padilla was born on Cayo Costa, and her father – Andrew Lawrence Padilla – had a family whose generations before had served as fishermen and tarpon guides in the area. Angelo and Myrtle moved to Boca Grande in 1927, and they eventually had six children.
Lowell's older brother, Philip, now lives in St. Petersburg. Charles lives in Cape Coral, and his two sisters – Ardys and Carol – live in Debary, north of Orlando. Milton, the youngest boy, lives in Brunswick, Georgia.
When Lowell was a young boy, he attended school here on the island and watched Harry Whidden build the store where Hudson's Grocery is now located. He knew Miss Rachel, the lady who owned the dress shop where Gasparilla Outfitters and the Boca Beacon offices are. Back then, Bill Presley owned the only grocery store on the island, known as the Mercantile. It was located where the post office is now. He remembers the Little Inn, which burned to the ground one night in 1944. He worked for years at the dairy at the south end of the island, washing bottles and milking cows.
It was during World War II when a lady named Ms. Wiles from Punta Gorda would watch Lowell and his brothers and sisters from time to time. One night when they were home with her while their mother was at church, they were staring out the window when the Power House stacks caught on fire. The babysitter grabbed them and said, "The Japs are coming, kids. Let's get to the Bayou."
Lowell said he and his son, Grant, had stopped in at PJ's Seagrille Restaurant in the Old Theatre Building, which brought back memories of the seashell-and-peanut-shell floor the old theater used to have.
"We always went to the movies there," he said. "But the movie didn't start until Louise du Pont Crowninshield showed up."
He remembers her as being a "big woman with a big white hat."
"She used to float around that pool with that hat on, and would have a Christmas party every year and buy presents for all the children on the island," he recalled.
He also remembers the frustration of being a teenager on an island where escape was quite difficult.
"We were locked in here. The only way to get off was to walk the trestle, by ferry, or by train. Or a boat, I suppose. I couldn't wait to leave here when I turned 18. There was nothing to do here; we would just get in the car and ride up and down every street in town."
Lowell lived in the house he grew up in until 1953, when he finished high school early to serve in the Korean conflict. He spent four years in the military, three of them in Austria and Germany and the last stateside.
When he left the military he moved to Jacksonville and met his wife, Jane. She was a girl from the Upper Peninsula of Michigan, a far cry from a Cracker boy from Boca Grande, but it worked, and they've been married almost 60 years.
In the mid-1960s Lowell and Jane returned to Boca Grande, and he went to work for the railroad. He was hurt on the job and didn't return to it, but instead worked for Bill and Joann Speer at their electrical and plumbing business.
It was during that time that Lowell built a house at the corner of W. Railroad Avenue and 2nd Street (Banyan now), which he sold in 1981 to Doris Bishop.
"I sold that one about a year or two too soon," he laughed. "Now I understand it's worth quite a bit more."
Lowell also worked as head of maintenance at The Gasparilla Inn & Club in the 1970s, and Bayard Sharp was his boss.
Lowell and Jane left the island in 1981, when he was 46 years old. From there he got a job working at the 11-story hospital on the Army base at Fort Bragg, N.C., as a maintenance supervisor. They still live in North Carolina to this day with Grant, not too far away in the Washington D.C. area. Grant is a retired Quartermaster/Navigator with the Coast Guard, and currently manages the response operations center for the National Transportation Safety Board.
This trip to the island that Lowell and Grant took to the island this past January was a surprise for Lowell's 82nd birthday. He found out at his birthday party, and he was thrilled he would be coming back to see the island "one last time."
He misses this place very much … at least the way Boca Grande used to be.
"There's not hardly anybody here anymore," he said, "they can't afford to live here anymore. But I remember when the passenger train used to come in every day, and all the wealthy people who used to come in on it. The Crowninshields, and the people who stayed at The Inn. It's just amazing to me, all the buildings there are now. I'm sure people call this paradise. But paradise the way I knew it … that was paradise. It's nice, they sure have spent the money here. But it looks like all the billionaires have run the millionaires off the island."