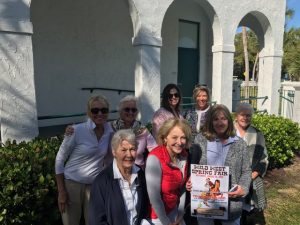 STAFF REPORT – The committee for this year's Boca Grande Woman's Club Spring Fair met recently to make plans for the 2020 Spring Fair, which will be held on Saturday morning, March 28 at the Boca Grande Community Center, immediately following the Bike Path parade. The theme will be "The Wild, Wild West." Start thinking now about what your cart or bicycle theme will be!
Shown in the photo are:
Back Row:  Karen Feringa, Ginny Bell, Chris Reecher, Kathleen Turner.  
Front row: Karen Strang, Melanie Sullivan, Carol Stewart, Mary Anne Hooker.  
(Not pictured:  Pam Payne, Sally Follett, Kathleen Moore, Maryjo Mostyn, Ned Lehrian, Julia Pankratz, Dori Fish)