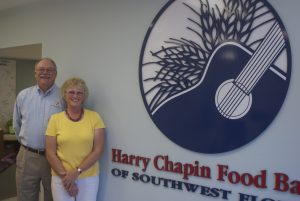 Joyce Jacobs, associate director of the Harry Chapin Food Bank of Southwest Florida, has announced that she will retire on June 30, 2017, after almost 24 years of service.
During her tenure, Jacobs has seen Harry Chapin grow from a grassroots organization that distributed a few hundred thousand pounds of food a year to a five-county agency that in fiscal year 2016 provided 20.4 million pounds of fresh produce and nonperishable grocery items.
"My friend John Poelker was the board chair of the food bank in 1990," Jacobs explained. "The organization was on the verge of closing, and John encouraged me to help by serving on the board.
"In 1991 I did begin my board term. I was willing to get involved, but I never thought feeding our neighbors at risk of hunger would become my personal mission for the next 25 years," she said.
Jacobs first joined the food bank board when the organization was known as the Lee County Food Co-op/Southwest Florida Food Bank. In 1993, Jacobs left the board to become a full-time employee of the food bank. As an employee, she oversaw fundraising and marketing and communications efforts, as well as food donations, partner-agency relations and several other responsibilities.
Jacobs was also instrumental in connecting the family of the late singer and anti-hunger activist Harry Chapin with the food bank. In 1994, the Chapin family gave the organization permission to rename the food bank in his honor.
The Harry Chapin Food Bank, an affiliate of Feeding America, is the leading hunger-relief organization in Southwest Florida. The food bank solicits, collects and stores food for distribution to families and others in need through a network of more than 150 nonprofit agencies in Lee, Collier, Charlotte, Glades and Hendry counties, providing food to about 28,000 people a week.
In fiscal year 2016, The Harry Chapin Food Bank distributed 20.4 million pounds of food and other grocery items, including 6.4 million pounds of fresh produce. The food, valued at $34 million, is the equivalent of 17 million meals for people in need.
The Harry Chapin Food Bank is recognized as a four-star organization by Charity Navigator, the national nonprofit watchdog organization. The food bank is also a United Way partner agency.
For more information or to make a donation, call (239) 334-7007 or visit harrychapinfoodbank.org