■ BY MARCY SHORTUSE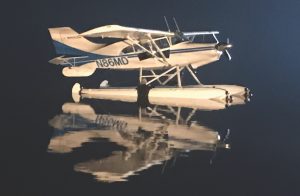 Netflix viewers will soon get a little taste of a Boca Grande legend in the series "Bloodline," which returns to the screen this summer.
Starring Kyle Chandler, Ben Mendelsohn and Sissy Spacek, the Netflix show is a thriller featuring the Rayburn family of the Florida Keys.
While they appear to be upstanding citizens in their community, they have many dark secrets that lead them to do very bad things.
Local fishing captain/seaplane pilot Mark Futch will appear in the season opener, and he'll be throwing bales of cocaine around.
"Ricou Browning, who I worked with on 'Miami Vice' and the movie 'Gone Fishin,' called me and said he needed me for a smuggling scene. We shot last month in Plantation Key, at night, so it was a little tricky to land the plane. I'm shown carrying a couple of Cuban smugglers who come in with bags of money, drop those off, pick up some drugs and fly out. You'll see me tossing a few bales, too."
Futch, who is a Screen Actor's Guild member, said he's frequently called when a seaplane pilot is needed. He said the shoot only took a couple of days and went very smoothly.
"It was a lot of fun to do. I always enjoy that work," he said. "This was even more interesting, as one of the advisors on the shoot spent about 17 years in federal prison for smuggling. So, yeah. We had some really good consultants." Makers of the show say that while this is the last season, it will be quite "dark and revealing."