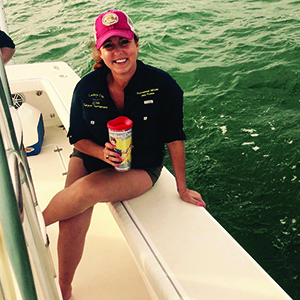 To the Editor:
On behalf of the 2018 Ladies Day Tarpon Tournament Committee and the Boca Grande Area Chamber of Commerce, I would like to extend my sincere gratitude and appreciation to the community of Boca Grande for supporting this year's tournament. From our sponsors to our volunteers, to our amazing artist, to our anglers, to our captains and to our mates, your investment in this tournament is nothing short of amazing.
This year the Ladies Day Tarpon Tournament had a full field of 40 boats. That's close to 160 female anglers! Some 160 distinctively tough women gathered in our Pass the day before Mother's Day and released 14 tarpon during 3 hours of fishing. The strength present on the water that day was truly awe-inspiring.
Once again I am honored and humbled to serve this island, its women and the rich history of not only the Ladies Day Tarpon Tournament but also World's Richest Tarpon Tournament. The encouragement and patronage of everyone who has participated in one way, shape or form is motivation to champion something all that more extraordinary in 2019. For this, I thank you.
With much admiration,
Amy Prestia
Tournament Director
Ladies Day Tarpon Tournament