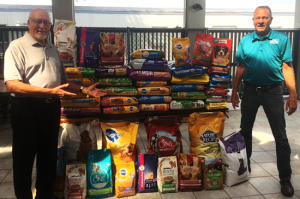 To the Editor:
Hurricane Irma was traumatic for humans and animals alike, but it also brought out the generosity in people and, in this case, neighboring humane societies.
Following Hurricane Irma, the Humane Society of Manatee County had received an overabundance of pet food and supplies from generous donors. So, after learning that Suncoast Humane Society had suffered some damage from the storm, and that their Pet Food Pantry had been depleted, Rick Yocum, executive director of the Humane Society of Manatee County, decided they had enough to share.
After calling Suncoast Humane Society, Mr. Yocum loaded up and delivered a truck- load of pet food, kitty litter and pet supplies. He said, "It feels good to be able to help a neighboring humane society and their animals. After all, we are all working for a common cause in our communities."
The generosity of Rick Yocum and the Humane Society of Manatee County could not have come at a better time. Our pet food pantry was empty following Irma. We are very grateful.
Executive Director Phil Snyder
Suncoast Humane Society
Englewood