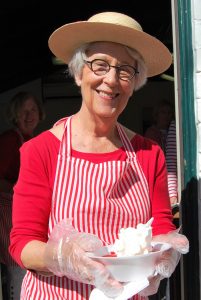 To the Editor:
From the many volunteers of all ages involved, to local businesses and visitors, the 2020 United Methodist Women's Strawberry Festival was a community event. It was a beautiful day, with an unprecedented number of attendees. Many deals were found, brats and shortcakes eaten and fun was had by all. As important were the friendships and fellowship that occurred – all for good causes.
I like to say that we were on a mission from God; with His help we raised nearly $80,000. After expenses, that money will be distributed to missions associated with women and children in need, locally and abroad.
So, from the bottom of my heart, for all the many missions we support and on behalf of the United Methodist Women, we say thank you to Boca Grande and the surrounding communities. It takes a village, and you did not disappoint.
Becca de Rosa 
2020 Strawberry Festival Chair