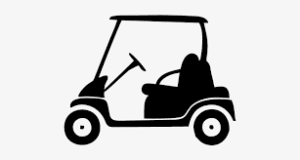 To the Editor:
The recent "Ditch the Cart, Live Longer" polemic advising golf on foot rather than by cart has it wrong. My senior friends and I often have age related orthopedic, cardiovascular or other issues which make cart golf necessary. Metabolic data like "calorie burn" and step-counts used in attempts to show benefits of walking over riding miss the point, and are probably not age and disability adjusted anyhow.
Our senior "cartcateers" are not out for physical conditioning. It's a great way to socialize and get off the coach. We do not need to be physiologically correct. I am all for physical conditioning, having walked briskly for many miles this past year and when available pre-coronavirus, have used the Inn Spa's excellent exercise activities.
But frankly, golf in any mode is a very inefficient means of physical conditioning. For that purpose choose some other activity. The appropriate choice for us is cart golf or no golf? We have chosen: Our senior golf groups play to enjoy the game. It's a great game for all ages with differing appeal for different players. In these troubled times I am grateful to live here with such easy and safe access to golfing. Having carts is an important part of such "access" for many of our seniors.
Lewis Hamilton, MD
Boca Grande