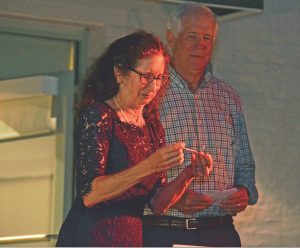 To the Editor, Boca Bay Pass Club Members and Staff:
I would love to thank all those who participated in the hilarious Tennis Dinner – This is your Life, Carolyn Gumula. Your countless hours of practice, hard work and fabulous costumes made for an evening of nonstop laughter and fun. The masters of ceremony and creative geniuses Jim Drobynk and Joe Adrian are truly to be congratulated for their ability to make a very average life uproarious and entertaining.
I want to thank the ladies who escorted me to all the fun, Jane Adrian and Doris Richards, and the gentlemen who were brave enough to dress up as me, Lee Major, (little girl me) and collegiate me, David Sparks, and Jim Drobnyk, present-day me. Their costumes were spot on. I did wear Mary Jane shoes (though not size 15) and short skirts and long hair (sometimes braids) in college, and Jim Drobnyk, looked like worn-out me. Everyone was wowed by the talented dancing and cheering of the FSU Golden Girls (Dee Dean, Carol Forrester, Robbin Gilligan, Kathi Hustedt, and Ned Lehrian).
Every step was perfect, and they dazzled everyone in their sparkly gold costumes/shoes and Florida State pompoms. The singing talents of Fred Allardyce, Kent Bonney, Oakley Johnson and Jeff Lehrian (Dan Headington was out sick) were on full display as they serenaded us with the Yale Whiffenpoof song, with lyrics by Drobnyk. All the tennis goats in the crowd especially loved the mawing and baaing. Mark and I will start our retirement with a bang, thanks to the gift committee of Jane Adrian, Renae Baker, Cecilia Raville, Doris Richards and Ingrid Yonker.
The tennis bracelet presented by Roger Lewis, the Tennis Chairman for all eternity, is so beautiful, and I will always wear it and treasure it along with the giant portrait/card by Pam Drobnyk. Seeing Sam Garcia, the Director of Tennis for whom I worked for 10 years, brought me to tears. I would also like to thank the Pass Club staff for such a flawless event. General Manager Tony Zaranti and Food & Beverage Manager Kim Dowgiallo had to use advanced geometry to make enough round tables fit into the limited Powerhouse space (enough for 160). Chef Michael and his staff presented an outstandingly delicious buffet. Thank you to all the Pass Club staff for their hard work on an extra busy night. The evening was such an outpouring of talent, love and hilarity. Thank you.
May I also thank Tony for inviting me and my husband Mark to the spring party. I was so grateful for the opportunity to say goodbye to all the Pass Club members. Terry Bisset, the General Manager I worked with for 15 years, came all the way from Jacksonville. It meant so much to me to see his happy, relaxed, retired self.
My family and I thank you all for the blessing and the privilege of working at the Pass Club, in this paradise, with all you caring, loving, talented people for 25+ years. I will miss you all.
All my love and gratitude,
Carolyn Gumula
Cape Haze