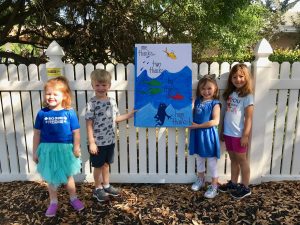 To the Editor:
Boca Grande Preschool (formerly the Boca Grande Child Care Center) is so blessed to be part of this community, which on Monday answered the call to fund real and immediate needs at BGP. With a new name, the Beach Ball, and a fabulous new venue, The Gasparilla Inn Beach Club, the Beach Ball was a great opportunity to celebrate early education. The guest of honor was Fr. Jerome Carosella, who has championed BGP since his arrival here some 30 years ago. 
The Beach Ball's "Paddles Up!" was our chance to see if guests would partner with us to fund five real and immediate needs at the Preschool.   
• A safety and security program addressing the four major components recommended by law enforcement;
• Acquiring and implementing STEM (Science Technology Engineering & Math) curriculum in tandem with The Island School program;
• Fulfilling the "wish lists" of our wonderful lead teachers: Miss Wendy, Miss Breon and Miss Suzy;
• Start-up of a beginning reader lending library inside the school; and
• A new playground.
As the evening ended with each of these programs fully funded, Preschool Director Kimi Harms said it all. "The teachers and I have very full hearts."  
How very fortunate we are that Boca Grande Preschool is part of a community that cares deeply about early education for our Island's littlest learners. I would also like to thank all the BGP board members for their committiment to the success of this event and the mission of the preschool, especially Janice Hursen, Beach Ball chairperson, and her committee – Sharon Cross, Kimi Harms and Marguerite Tremlin – who impressed all with a fresh approach to funding the needs of the school, and Kate Carbonari for a very successful Fall Annual Appeal.
On behalf of the board of directors, the staff, the students and their families, we thank you for your enthusiastic support.
Gratefully,
Angela Steffan
President
BGP Board Director