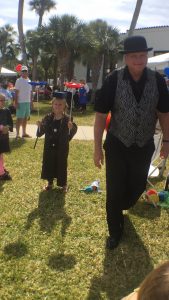 To the Editor:
The Boca Grande Woman's Club held their annual Spring Fair at the Community Center on Saturday, March 25, following the Bike Path parade. "The Magic of Movies" was the theme of this year's parade and fair, which drew crowds of Hollywood "wannabes."
On behalf of the Woman's Club, we want to thank the community of Boca Grande for supporting this event, with additional thanks to the Lemon Bay High School students who marched in the parade and helped during the fair.
We appreciate the local "celebs" who were willing to take a plunge in our Dunk Tank: Island School Teacher J.T. Tremaine and Head of School Jean Thompson, Fire Chief C.W. Blosser, Pass Club Tennis Pro H Wetzel, Chamber of Commerce Executive Director Wesley Locke, local celebrity Marshall Locke, and Woman's Club President Angela Steffan. Thanks to Peter Diebold for creating artwork for Fair posters, to Julian Keevil for serving as Emcee, and to "Bit of Hope" Ponies and Frank ("The Shark Tooth Man") for donating their services to entertain Fair attendees.
We also appreciate members of the Boca Grande Fire Department who helped with setup and takedown.
Woman's Club Fair, bike parade kudos givenFinally, a huge THANK YOU to Joe Wier and David Bartels of the Lee County Parks and Recreation Department for all of their assistance in putting on "Movie Magic"!
Debbie Lilly, Mary Kountze,
Marcia Knapp, Kitty Cross
2017 BGWC spring fair chairmen