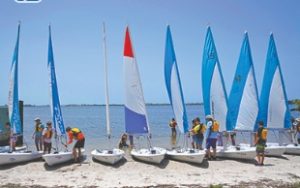 To the Editor:
Come learn to sail or refresh your skills with Englewoood Sailing Association's (ESA) Adult Sailing Class for those 18 and over. This popular fall class will be held November 4 thru 7 from 10 a.m. to 2 p.m. daily. The only prerequisites are the ability to swim and the desire to sail.
Class will be held at the ESA Sailing Center at Indian Mound Park, 210 Winson Ave. in Englewood. Cost is $195 per person, and registration will open at the Englewood SKY Family Y, September 30. ESA instructors are certified through U.S. Sailing and trained in CPR and first aid.
For additional information, contact Rosemary at (941) 223-9807 or visit englewoodsailing.org. Class size is limited.
Deborah Clements
Media Coordinator
Englewood Sailing Association