To the Editor: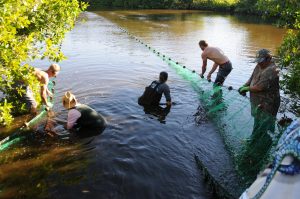 Please mark your calendar to help our next monthly tarpon net pull event at Lemon Bay Conservancy's Wildflower Preserve this coming Saturday morning, Feb. 18.
This is an important event, as it will occur during LBC's annual Open House at WF Preserve that same day, so there will be many interested adult observers arriving at different times.
Likewise, with the multiple activities and booths being set up, parking will be crowded and busy in the WF parking lot at 3120 Gasparilla Pines Blvd. in Englewood.
Be sure to invite and get the word out to your friends and neighbors about this educational event with free public guided tours.
The good news is, we may also have help from several of the Lemon Bay High School and L.A. Ainger STEM science teachers and students as well, for they will have a booth at the Open House.
We also expect several of our good friends and FWC research partners to be on hand with our data gathering.
We need at least six LBC Fish Team volunteers to get up early and help load up the boat to meet at our fish equipment shed at 7:45 a.m.
We will start the net pull juvenile tarpon and snook research at the first of the big tidal ponds behind Fiddlers Green at about 8:15 to 8:30 a.m.
Thank you for your interest and past volunteer participation in our fun and educational scientific juvenile tarpon and snook research.
Confirm by email to jcoop43@comcast.net if you will be there to help participate in our net pull team and make this another great volunteer team event  this Saturday.
Jim Cooper
Lemon Bay Conservancy president and tarpon research coordinator