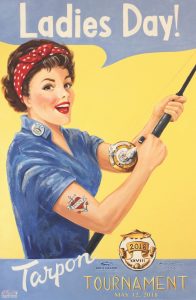 ■ STAFF REPORT
The tarpon are chewing, the tides are good, and the next two weekends will be devoted to the Boca Grande Area Chamber of Commerce's world-famous Ladies Day Tarpon Tournament and the World's Richest Tarpon Tournament.
This year's action is looking good so far, with Ladies Day this weekend.
A message from the committee:
The Ladies Day Tarpon Tournament is the kick-off of tarpon season that celebrates the giving heart and unparalleled strength of its Lady Anglers! This year's theme is based on the American icon "Rosie the Riveter." Much like Rosie, our anglers know how to roll up their sleeves and get the job done! The 28th annual Ladies Day Tarpon Tournament will donate a portion of its proceeds to "Fighting Pretty," a non-profit organization that sends "Pretty Packages," which are care packages intended to empower women battling cancer to feel strong, beautiful and fierce. The Boca Grande Area Chamber of Commerce is proud to host this timeless tradition that honors strong women and their love of tarpon fishing!
• Captain's party on Friday, May 11 from 5 to 8 p.m. at the Crowninshield Community House
• Fishing on Saturday, May 12 from 4:30 to 7:30 p.m. in Boca Grande Pass