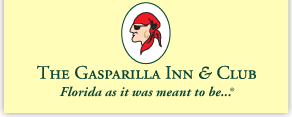 To the Editor:
This January, The Gasparilla Inn – a landmark destination on Florida's Gulf Coast – will welcome guests for a weekend filled with golf, yoga, spa services and much more – all part of its 2018 Golf and Yoga Wellness Retreat. The thoughtfully designed weekend features guest instructor Sage Johnson, PGA, founder of GolfYoga Fitness and a Titleist Performance Institute Certified golf instructor. Sage will lead guests through an unforgettable weekend featuring personalized instruction beginning Friday, January 19 through Sunday, January 21, 2018.
The Golf and Yoga Wellness Retreat begins with cocktails, delectable hors d'oeuvres and a beautiful sunset over Charlotte Harbor and the Gulf of Mexico on Friday evening.
Saturday activities include a Golf Yoga class led by Sage to help improve performance on the golf course, personalized golf instruction and a spa experience. Guests may also enjoy plenty of down time to brush up on their new skills. The weekend will conclude with an intimate wine and cheese reception on Saturday evening, followed by Sunday morning sunrise yoga and brunch.
We look forward to welcoming guests in January, and are pleased to have Sage join us for this special retreat. So many of our guests enjoy golfing here on our course, and this weekend allows us to combine all of the things they love so much about the Inn into one unforgettable experience.
All level golfers and yoga enthusiasts are welcome, from beginner to advanced.
For more information about The Gasparilla Inn's 2018 Golf and Yoga Wellness Retreat, visit
the-gasparilla-inn.com/golf-and-yoga-retreat/ or call 964-4520.
Jon Reecher
General Manager of The Gasparilla Inn & Club
Sugar in South Florida: Past, present and future