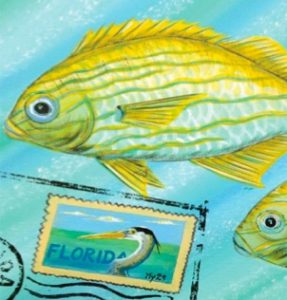 To the Editor:
It's hard to believe that a tiny group of local artists would start an art show 33 years ago which would become the incredible fine-art exhibit that it is today.  Everyone is getting excited about the 33rd annual Englewood Bank & Trust Invitational Art Festival, Saturday & Sunday, January 25-26 from 10 a.m. to 5 p.m. on the grounds of Englewood Bank & Trust's main branch at 1111 S. McCall Road in Englewood.
This is one of our community's favorite events, and each year residents and visitors look forward to seeing 50 of the nation's top award-winning fine artists and craftsmen set up on the beautiful grounds of Englewood Bank & Trust near the Beach Road.
I am one of 20 artists who began this show years ago. When Jim Sears and Mary Gegunde and I first talked to Ferold Davis, then president of Englewood Bank, we just wanted to have a showcase of our own here in town. Englewood has always attracted artists to live and work here because of its beauty and location on the coast, and we wanted to create a show that would feature our local artists.
The Art Festival grew out of that, and now I spend much of the year scouring the country for new and exciting artists to be a part of the show. This year's show is amazing. I focused on finding new artists who had never been here before, and I know everyone is going to love it.
The location of the show on the grounds of Englewood Bank & Trust on SR 776 near the corner of the Beach Road is fantastic, and I appreciate Englewood Bank & Trust's continued support.
The Englewood Bank & Trust Invitational Art Festival is a premier art-collecting opportunity for local homeowners and visitors as well as being a great place to meet your friends, spend the day and have lunch. All the artwork in the show is handmade, and the artists who create it will be here to talk to you about their work and their interesting lives.
All media will be represented. Everything from handmade clothing to large, original oil paintings, incredible sculpture, hand-forged jewelry, acrylics, watercolors, pottery, photography, printmaking and glass.
Delicious food and refreshments will be available on site, and Englewood Bank & Trust will provide plenty of free parking.
The hours of the art show are from 10 a.m. to 5 p.m. both Saturday and Sunday, January 25-26, and the public is invited to enjoy a day with fine artists and craftsmen from around the world.
For directions and more information about the show, call me at (941) 266-6434.
Carroll Swayze
Englewood, Boca Grande and beyond