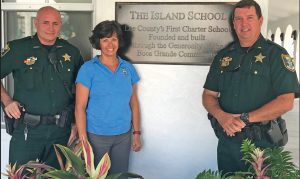 This week we welcomed Cpl. Wilhelm "Willy" Radauscher to the island, as he is the new School Resource Officer (SRO) at The Island School. Willy is a veteran of the United States military, 1983-1986, and he was born in Queens, N.Y. He moved to Sarasota as a young man. He is also the father of two. The corporal enjoys exercising, the outdoors, and crime documentaries on television.
Cpl. Radauscher has been a member of the Lee County Sheriff's Office since 1998. After a brief time working as a corrections officer, Willy transferred to the patrol division and was assigned to Lehigh Acres, where he worked from 2000-2014. Cpl. Radauscher transferred to North District until 2017, when he then transferred to Youth Services to be a school resource officer.
Why did he choose to be a law enforcement officer?
"I wanted to be a cop since I was 6," he said. "My Uncle Hammond worked with the NYC Police Department, and I always looked up to him, literally and figuratively, as he was 6'8" tall. He used to let me play with his handcuffs and bullets, which didn't go over well with my 5-foot-tall grandmother."
Proud to serve,
Lt. Jeff Corkhill