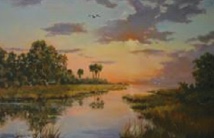 To the Editor:
As we salute goodbye to 2018 and open our arms to 2019, it is with anticipation and excitement for Hughes Gallery. This season, we welcome six new artists:
Paula Holtzclaw, OPA, AIS, ASMA, AWAM, PAP-SE, WAOWM;
Harley Bartlett, a famous New England oil painter and muralist;
John Sargent (Yes, you know his gorgeous paintings from Serendipity Gallery, which closed this past summer – we are very happy to welcome him into our art family);
Berry Fritz, amazing still-life compositions (and her birds are just too wonderful!); and our dear friends
Andy Palmer and Silvis Ferrari Palmer – Andy is literally a world-famous potter (don't let him say he isn't!) and amazing furniture maker and Silvia is a story-telling artist, whose works will grab your heart and gently hold it, entranced as you stand before their co-creations. (Andy made several of the frames, which carry Silvia's paintings out and on to the frames.) Just magical!
Our kick-off for 2019 is Daniel Ambrose, and the exhibit opens Monday, Jan. 7, 10 a.m. to 5 p.m. Daniel's reception is that evening from 6 until 8 p.m
With these uplifting events coming to our gallery in the new year, we wish you and your families the best good health, an abundance of love, deep joy, quiet and sure peace and great prosperity.
We love all of you, and we are grateful for each and every person who has added their story to ours by visiting with us, patronizing our gallery and becoming our friends!
Love and brightest blessings to all of you,
Barbara and Peter
Hughes Gallery
Boca Grande