■ BY SUE ERWIN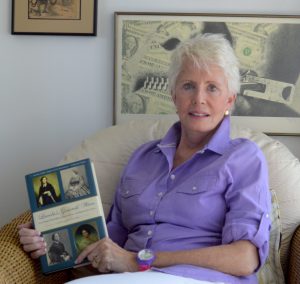 Island historian and author Candice (Candy) Shy Hooper will be speaking on her book, "Lincoln's Generals' Wives: Four Women Who Influenced the Civil War – for Better and for Worse" at 4:30 p.m. on Wednesday, March 15 at the Boca Grande Community Center auditorium.
Candy's book illuminates the profound impact of military wives on the Civil War by examining the lives of Jessie Fremont, Nelly McClellan, Ellen Sherman and Julia Grant. Candy worked as a press assistant, legislative aid and political lobbyist for most of her career.
She spent the last few years of her career working as a lobbyist from her home. That's when she realized there was something she was tremendously interested in: military history. So she went back to school and earned a master's degree in history at George Washington University.
She began working on her book while still working as a lobbyist. At first, she just wanted to get an article published about it, but after talking with two friends and a Civil War expert and a military history professor, she took their advice and turned it into a book. She also learned something about her own mother, who had traveled the world to be near her father during his service in the Navy.
When she started to add up the miles her mother logged while moving their family from place to place, she realized that it added up to tens of thousands of miles. It took her eight years to write the book, much of which she accomplished from her home in Boca Grande. "This has been a fascinating learning experience. Aside from doing all the research, I've learned so much about my own parents as well," she said.
Using the couples' letters, memoirs and photographs, along with maps that follow the women's travels during the war, Candy reveals a hidden chapter of Civil War history. The book was published and released by Kent State University Press in May of 2016. It is currently available on Amazon in hard copy, and a Kindle version will soon be available as an audio book at audible.com.
Candy is a member of the Boca Grande Live Poet's Society, a group that's been meeting on the island for years.
The event is sponsored by the Friends of the Boca Grande Community Center.
"There will be books available at the event, which I will be delighted to sign, and there are books available for sale now at the Friends office," she said. General admission tickets ate $35, reserved seating is $60 and sponsorships are $150. For more information, visit bocagrandehappenings.org/events/history-heritage-candice-shy-hooper/