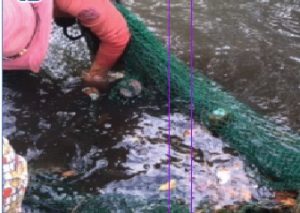 To the Editor:
Last Saturday, Nov. 16 at 7:45 a.m. it was a beautiful, crisp and sunny morning at Lemon Bay Conservancy's renowned Wildflower Preserve. While most folks were sleeping in or enjoying their morning coffee, 18 highly motivated, fun-loving Lemon Bay Conservancy volunteers met at the Preserve's equipment shed to carefully stack LBC's 600-foot-long seine in the LBC jon boat.
The LBC's all-volunteer team consisted of experienced data-gathering fish samplers, five new visitors and Dave Blewett, an expert from Florida Fish and Wildlife. He mentored the water-sampling effort and supervised the team in smart techniques to best set and gather the large seine intended to maximize the catch in the Preserve's two tidal, mangrove-lined ponds.
The juvenile tarpon fish gods were smiling brightly on the volunteer team on this cold first month of this fall-winter-spring monthly mangrove-lined tidal pond sampling of juvenile tarpon. The LBC volunteers happily measured and recorded 245 juvenile tarpon in one pond, which is a new record high over the past five years. This is significant and hopeful for our community, for it illustrates the huge value of LBC's mangrove-protected tarpon nursery habitat ponds.
It was surprising that despite the windy 58-degree outside air temperature and 68-degree pond temps, and our devastating summer and fall red tide events in nearby Lemon Bay, we measured a nice healthy crop of fledgling tarpon. As most folks understand, LBC Preserve's tidal ponds flow from and into Lemon Bay. The data sampling by LBC volunteers at Wildflower Preserve is invaluable in contributing to our economy and understanding the incredible resource value it provides to our multi-million dollar regional sport fishing industry.
The silver king tarpon is one of the most important sport fish to our local economy. Our FWC expert estimated that while only 245 tarpon were netted and released by the volunteer team, in fact there were most likely in excess of 1,000 baby tarpon in the LBC ponds on Saturday.
The information on the fish sampling and water sampling data being collected at Wildflower Preserve is stored in databases maintained by the FWC, Bonefish and Tarpon Trust and the Lemon Bay High School Aqualab, where STEM students gather data to assist in crafting award-winning science fair projects.
This record-setting presence of 245 juvenile tarpon recorded by volunteers in LBC's tidal ponds at Wildflower Preserve on November16 is a community success story we can all be thankful for at Thanksgiving this year.
LBC's President and tarpon data sampling scheduler, Jim Cooper, jcoop4@comcast.net, invites both adult and student volunteers interested in learning more about the value of these fun fish sampling efforts to come out to Wildflower Preserve next month on Saturday morning, Dec. 21, at 7:45 a.m. Be a part of our LBC volunteer team to enjoy hands-on participation in these fun and scientific fish-sampling events, and in learning more about the habits and feeding and growth patterns etc. of juvenile tarpon.
Wildflower Preserve is located at 3120 Gasparilla Pines Rd., Englewood, FL 34224.
Go to lemonbayconservancy.org for a current calendar of our many water-protection and nature- education events.
Jim Cooper
Lemon Bay Conservancy
Englewood