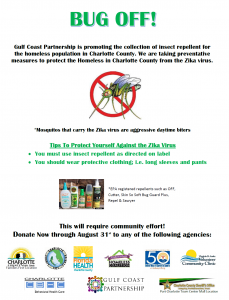 To the Editor:
The Gulf Coast Partnership and community partners are promoting the collection of insect repellant for the prevention of the Zika virus. This is an important public safety drive, called "Bug Off." We are collecting mosquito and bug spray to distribute to homeless individuals and families in Charlotte County. The Zika virus is a developing health concern, and we need to help protect those who are most vulnerable.
All donated bug sprays will be collected from your business by the first week of September, so please let any of the community partners know if you are participating. That way we can make sure to pick up your donations. A small donation box can be placed at your place of work or organization to accept bug sprays. Examples of the EPA- registered repellents are: OFF, Cutter, Skin So Soft Bug Guard Plus, Repel & Sawyer. Individuals can drop off bug sprays at the United Way or any participating partner.
Contact tina.figliuolo@cchomelesscoalition.org for more information.
Tina Figliuolo
Gulf Coast Partnership
Charlotte County Homeless
Coalition