■ BY MARCY SHORTUSE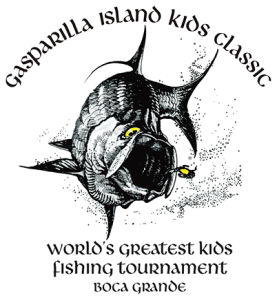 First it was Ladies Day. Then it was World's Richest. Now it's the kids' turn, as the 2017 Gasparilla Island Kids Classic Tarpon Tournament is scheduled to drop lines in the water at 5:30 p.m. in Boca Grande.
The event, created by Capt. Sandy Melvin and Boca Grande Charities, Inc., is considered to be the "world's greatest kids' fishing tournament," because not only does it afford our kids the chance to compete in a world-class fishing competition, but also 100 percent of all entry fees from the event are donated to local charities.
In the past five years since the tournament's creation they have raised more than $150,000 for Moffitt Cancer Center, All Children's Hospital, the Englewood Community Care Clinic, The Island School, Lemon Bay Conservancy and the Charlotte County School System's STEM Camp.
Festivities will begin at 11 a.m. at the Boca Grande Community Center, where complimentary food and drinks will be served and a family interactive art show will be held (see below).
Registration begins at noon. All captains, anglers and observers need to find the check-in table and make their presence known.
At 3:30 p.m. boat checks will take place at the mouth to Miller's Channel. This is when teams will get their flags, and flags must be flown to participate in the tournament.
At 5:10 p.m. Jim Cooper, president of Lemon Bay Conservancy, will give a message of conservation from the Port Boca Grande Lighthouse beach. At 5:12 p.m. a blessing of the event will take place.
At 5:15 p.m. the Lemon Bay High School ROTC will present the colors honoring our military, followed by the singing of the national anthem.
At 5:20 p.m. the Charlotte County Warbirds vintage aircraft club will perform a flyover saluting our veterans and active-duty troops, and at 5:30 p.m. tournament fishing will begin.
Fishing will continue until 8:30 p.m., and the awards presentation will take place at the Boca Grande Community Center with food, drinks and ice cream.
Make sure to tag Gasparilla Island Kids Classic in all photos and videos on Facebook, or send directly by texting (941) 276-8646 the day of the tournament. Make sure to include the team name, anglers shown and the photographer's name.
Here is your roster for the 2017 Gasparilla Island Kids Classic:
1) Blaze, Capt. Waylon Mills, Team Ram-Lin Trailers
2) Boca Blue, Capt. David Kelly, Team Randy Wojick Realtor
3) Casuarina, Capt. Charlie Coleman, Team Paradise Cove Real Estate
4) Deja Vu, Capt. Dumplin Wheeler, Team U.S. Health Advisors
5) Deuce, Capt. Johnny Bylaska, Team Jimmy Buffett Margaritaville FINtastic4
6) Faithful ll, Capt. Matt Coleman, Team USA Meribank
7) Family Tradition, Capt. Travis Joiner, Team CCM Graphics
8) Fast Lane, Capt. Marty Scott, Team Englewood Bank
9) Hey, Moma!, Capt. Wayne Joiner, Team Island School #1
10) Hi Tailin', Capt. Doug Stewart, Team Mohr Family
11) Jill Marie, Capt. Dave Chatham, Team Whidden's Marina
12) Last Drift, Capt. David Appelo, Team Apex Roofing
13) Little Spook, Capt. Nelson Italiano, Team Janoff & Khatri Pediatric Dentistry
14) Miss Aubrey, Capt. Paul Wagenseil, Team Special Effects
15) Miss Sarah, Capt. Lamar Joiner Sr. Team Island School #2
16) Knight Brothers 28, Capt. Thomas Knight, Team US Health Advisors #4
17) Outta Line, Capt. Blake Cheske, Team Boca Grande Fire Dept.
18) Phil-Jack, Capt. Mark Liberman, Team Yellowfin Yachts
19) Searene, Capt. Lamar Joiner Jr., Team Gasparilla Outfitters
20) Sitarah, Capt. Mark Futch, Team Calvin Giordano & Associate
21) Squaw, Capt. Dan Snode, Team LA Ainger Middle School
22) Sundown, Capt. Tim Smith, Team Gail Baird Foundation
23) SweetWater, Capt. Randy Rhines, Team Gulf Coast International Properties
24) Tracy Lynn, Capt. Willie Mills, Team Old Florida Homes
25) Tsunami, Capt. Chad Bombenger, Team Tsunami Charters
26) Turnin' Tide, Capt. CJ Soderquist, Team Parsley-Baldwin Real Estate
27) Capt. Jesse Beye, Team US Health Advisors #3
28) Capt. Roger Gibson, Team Vicious Bait Dye
29) Capt. Todd Gilbert, Team Lemon Bay High School #1
30) Capt. Beason Huffman, Team Henry & Waters
31) Capt. Brian Knight Team US Health Advisors #2
32) Moonraker, Capt. Johns Knight, Team Boca Beacon 3
3) Capt. Chad Lach, Team Boca Grande Woman's Club
34) Capt. Patrick Mason, Team Lemon Bay High School #2
35) Capt. Chris O'Neill, Team Majestic Outdoors