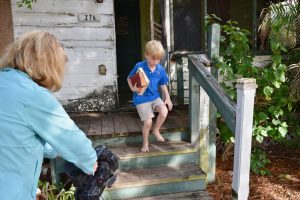 BY MARCY SHORTUSE – On Thursday, May 3 a new documentary on barrier island life had its debut on local television stations, and it featured several familiar faces and places. But don't worry – if you missed it, then you will get a chance to see it again.
"Mullet and Mangroves: The Pioneer Fishing Families of Cayo Costa" is a production of Mainsail Video, directed by Ilene Safron and narrated by Bob Hite, WFLA-TV's main news anchor for more than 30 years. Portions of the documentary were filmed in Boca Grande this spring.
Production Associate and generational islander Effie Joiner said she started working with Director/Videographer Ilene Safron more than a year ago.
" 'Mullets and Mangroves' was just one out of many projects we worked on," she said.
A young Stanley Darna is played by none other than Hudson Coleman, the youngest of Capt. Charlie and Nicole Coleman's three boys and the actual great-great-grandson of Nona Coleman. The documentary shows him walking up the stairs to a porch bedroom where Stanley used to stay during the school week at his Aunt Nona's house. While Stanley lived on Cayo Costa, he had to go to school in Boca Grande, so his father, Alfonso Darna, would take him to his aunt's house (sometimes at 2 a.m., depending on the fishing), and he would crawl into bed on the little porch until it was time for school.
The show begins with a brief history of the Native Americans, primarily the Calusa, who lived on Cayo Costa in the beginning. It then speaks of the Spanish arriving – and it starts to get into a more modern-day vein when the discussion turns to Cuban smacks laden with alcohol coming by the island, and bootleggers who lived all around.
The first interview is with Stanley Darna, who speaks of the old Boca Grande School and his dad working to erect the Range Light back in the 1920s. It continues with an interview with Virginia Padilla Morton, who remembers the family not that far back in the past speaking only Spanish. She currently lives on Pine Island and operates Jug Creek Marina in Bokeelia. Right next door to her marina is a fishhouse run by Jesse Padilla.
The story continues with tales of Capt. Peter Nelson from Denmark, who was a very well-known man in Southwest and Central Florida. He had a major influence on Lee County's growth in early times. Capt. Robert Johnson of Boca Grande described Nelson in an interview.
"He (Peter) did things that were quite extraordinary. Give me a list of the three most interesting, remarkable characters in the history of Southwest Florida, and Capt. Peter Nelson was one of them," he said.
It was Nelson who drove the Padilla family from Cayo Costa, as he gave information that got them arrested for bootlegging. Even though they fled, the law caught up with them in Tampa. The Padillas were allowed to return a few years later, and the family stayed for three more generations.
Nelson was a business partner with Johnson's family. When he retired he moved to Cayo Costa, where he was the postmaster as well as a schoolteacher. He died and was buried on Cayo Costa.
Another interview for the show featured Rufus Darna, who was born and raised on Cayo Costa. He described the house he was born in as "the old Martin house," and his family running mullet and seine netting for sheepshead.
The show also includes the history of neighboring islands Punta Blanca and Useppa, both founded by Barron Collier (an entrepreneur from New York whose influence was felt all over the southern part of Florida). Collier set up Punta Blanca as an island to house the workers from Useppa, and a small school was eventually set up there that all the neighboring island children attended. Frances Barnes Poppell was interviewed during the show, and she described an average school day for the 12 to 15 children who went to school there.
"I didn't appreciate it as much growing up there as a child, but I now know it was beautiful. It was pristine," she said.
Winston Coleman, born in 1942 and the youngest of seven to grow up on Cayo Costa, described the loneliness he felt with no other kids his age around, and how his family had a "lighter," a house on floats that could be tied to land until the fish ran out, then moved to a new spot by using poles or by being towed with another boat.
He started commercial fishing when he was just 12 years old.
There is also a great piece with Capt. Harvey Hamilton, a cousin of the Darna family whose mother Isabella was Tervio Padilla's granddaughter. He was born on Cayo Costa in 1940, and he remembers eating everything from pompano to white ibus, sea turtles to sea greens. He also recalled being in the military before he had his first new pair of shoes. Hamilton eventually went down to Key West, where he caught and trained dolphins for a living, and he was the trainer of "Flipper" from the old television show (though her name was actually Mitzi). Hamilton's son Andrew, who lives on Pine Island, was interviewed as well.
"I thought I would be the same commercial fisherman as my dad," he said. "But when there was a net ban, which outlawed commercial fishing with large gill nets, it took away a lot of livelihoods. Dad sold his nets and bought rods and reels instead and became a guide."
Andrew decided to follow a different course and became a chef at Saltwater Smokehouse, a St. James City restaurant.
The show wraps up with scenes from tours of Cayo Costa, and Barrier Island Parks Society Executive Director Sharon McKenzie explaining how valuable the experience is to go to such an unspoiled barrier island and to walk the same footsteps and see many of the same things people saw there more than 100 years ago.
"It all makes history seem more relevant," she said.
Virginia Padilla Morton summed up the feel of the show very succinctly:
"I'm grateful I was able to live there and experience being on the island. It's something they can never take away."