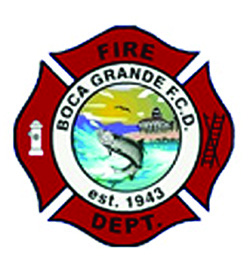 ■ BY SUE ERWIN
The Boca Grande Fire Department took part in a Public Protection Classification survey in March. The results are expected to lower island homeowners' insurance premiums.
The survey was completed by ISO, a company based in New Jersey that rates fire departments based on their capabilities to protect a community. The ratings are based on a 1 through 10 point system, with 1 being the best score. ISO completed its analysis of the structural fire suppression delivery system provided in the Boca Grande community.
"Based on the survey, the Boca Grande Fire Department was upgraded from a four to a two. The evaluation includes the station, apparatus, equipment, maintenance, training and record-keeping for the department. Lee Control (The Boca Grande dispatch center) and GIBA are also evaluated as part of the process," said Fire Chief C.W. Blosser.
ISO's Public Protection Classification Program (PCC) plays an important role in the underwriting program at insurance companies. Many insurers use these data as part of their decision-making and underwriting process when deciding what kind of coverages to offer certain businesses regarding personal or commercial property insurance.
"This is very good news for homeowners on the island who insure their property. Insurance companies will base the premiums of homeowner's insurance centered on this new rating and that will result in lower premiums for the entire community," Blosser said.
The new rating will become effective on July 1, 2016. Homeowners should see a reduction in their insurance premiums when their policies renew.
According to the ISO website, there are 85 Class 2 fire departments in Florida and 1,164 nationwide.
Chief Blosser said it was a huge project, and because the department is so small, it took the entire team to complete it.
"We provided them with more than 900 pages of documentation – it took the whole staff. We completed it in about a month, because the organization wanted to do it quickly. They sent a person down to verify all of the documents and physically inspect the station and the apparatus. It was a day-long operation," Blosser said.
The inspection is normally done every five years.
"This upgrade is a shining example of the dedication and ability of all the members of the Boca Grande Fire Department. The result means we are doing things right, and I'm very proud of our team," said Blosser.
Blosser said he doesn't expect to hear back from ISO for another three years, unless the department goes through any major improvements, when they could request another inspection.
"This is the second inspection during my career with the department. At this point we are extremely happy with where we are."