■ STAFF REPORT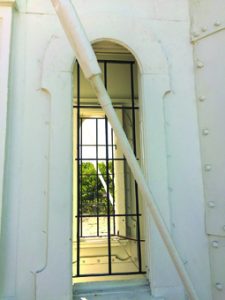 The restoration of the Gasparilla Island Light, also known as the Range Light, is complete, but before we pop the champagne corks the Barrier Island Parks Society has an important request in regard to our much-loved givers of light.
According to Larry Hannah, Chairman of The Lightkeeper's Fund, they need the balance of their fundraising goal – an additional $296,000 – for critical work on the Boca Grande Lighthouse, located at the Boca Grande Pass in the Gasparilla Island State Park.
"The superstructure supporting this building is in desperate need of your help," Hannah said. "We have made temporary repairs to keep the Lighthouse open. We need to move our building and restoration crew from the Range Light to the Lighthouse immediately."
In seeking these funds the BIPS Board of Directors acknowledges the generous support already provided by more than 600 island residents and friends from across the United States.
"Since April 1, 2016 you have contributed $1,487,000 to restore the Gasparilla Island Light," Hannah said. "All of us should be proud of the work done on this important symbol of island history. "Now we are asking for additional support to move forward with the Lighthouse repair. The same crew that did an outstanding job on the Island Light will be used to complete the Lighthouse work."
Send your support to: The Lightkeeper's Fund P.O. Box 654 Boca Grand, FL 33921 A
ll contributions are tax-deductible to the extent provided by law and within the guidelines of the Internal Revenue Service. IRS Exempt Status #65-0327-405. Stock shares may be transferred by contacting Sharon McKenzie at 964-0060.
"We look forward to having donors visit the Gasparilla Island Light for a climb to the top during the week of April 1-7," Hannah said. "Donors will be notified by letter and email to schedule an appointment. "Thank you from BIPS for helping to preserve and protect these island landmarks."