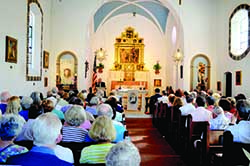 BY SUE ERWIN – History Bytes is back for the 2016 season, and it started out with a new twist as the public was invited to attend an historical lecture presented by Rev. Jerome Carosella at Our Lady of Mercy Catholic Church on Wednesday. More than 100 people attended the event.
Father Carosella has been pastor at the church for the past 27 years. The presentation covered a brief history of the development of the island church, with a discussion about the architecture and founders. Our Lady of Mercy was built in 1950, donated by Mrs. Gertrude Hill Gavin and designed by noted architect F. Burrell Hoffman. The church was dedicated by the then Bishop of St. Augustine, Archbishop Joseph Hurley.
The colonial structure is reminiscent of the Spanish missions erected in the 17th century. The double entrance wooden doors were carved by local craftsman Darrell Polk and donated by Rodney Sharp.
"I tried to preserve this church as it was originally," Father Carosella said. "Very few changes have been made to it with the exception of adding air conditioning and more lighting and a handicap ramp for safety reasons."
Carosella said the Stations of the Cross were painted by Jerome Hill, a New York artist and the nephew of the church's donor.
"The steps to the church are native coquina stone, and the windows are designed with a fish scale motif. The tiles framing the windows were imported from Europe," Carosella said.
As you enter the church, above the front door is an oil painting of Our Lady of Mercy holding the crucified Christ.
The crucifix above the lectern is carved in fruitwood. It is believed to have been created by a World War II Polish prisoner of war and was presented to the church by a parishioner.
The leather-bottomed chairs are thought to be 250 years old. The chairs, like many of the items in the church, represent the work of Spanish artisans.
"Circular stained glass windows were installed in 1981 to replace the original ones," Carosella said.
Carosella also discussed the history of Catholic people living on the island before the church was built.
"They would celebrate mass on the property of a very wealthy builder," he said. "A priest from the diocese of Venice would travel to the island on Sundays during the winter months."
Carosella explained that Florida had a shortage of Catholic priests in the late 1800s.
"Florida was vulnerable to two major threats in 1888 – hurricanes and mosquitoes. In those days, there were serious outbreaks of Yellow Fever, and 25 percent of the Catholic priests here were lost due to the disease. So priests were recruited from New Orleans and asked to come to Florida."
The next History Bytes program is planned to take place on Wednesday, Feb. 10 at 11 a.m. at the Johann Fust Community Library. The theme will be "A First Mate's Look at Miller's Marina Before and After the Fire."