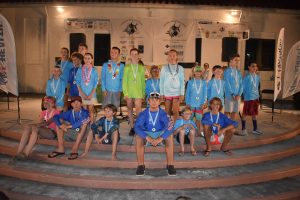 ■ BY MARCY SHORTUSE
Never underestimate the power of children who love to fish. This was the eighth year that fact was proven, as 23 tarpon were released from 10 of the 35 boats that fished the 2018 Gasparilla Island Kids Classic. The ages of the children ranged from 5 to 15, with 131 children in total participating.
You would think that small children couldn't haul in a tarpon weighing well more than 100 pounds, but team members swarmed the rods like fire ants on a watermelon rind, each taking turns pulling those big 'poons to the boat.
The average release time for the tournament was nine minutes, if you can believe it.
For 12-year-old William Woodroffe Jr., this was a tournament of a lifetime. He has fished it four times now, and the two tarpon he released from his boat, Faithful II with Capt. Matt Coleman (sponsored by USAMeribank), were his first and second in his history with the tournament.
"This was my first time catching fish in this tournament, but overall I've probably caught somewhere between 20 and 40," he said. "I started fishing for tarpon when I was about 9-years-old."
Of the four tarpon released from Faithful II in the Kids Classic, 8-year-old Kyle Tinkham caught the first one. "It was his first tarpon ever, we were really proud of him," William said. "It was a big one, somewhere around 120 pounds. He had a little help from my brother and I."
The second fish of the day for  Faithful II was caught by Ethan Coleman, Capt. Matt Coleman's 8-year-old son. It was his second tarpon in his lifetime.
"He doesn't get to fish a lot, his dad is a really popular captain so he's always taking clients out," William said. "That one he caught was about 70 or 80 pounds."
William caught the third and fourth tarpon for the team.
"I caught them without help, they were both about average size," he   recalled. "They took about eight or 10 minutes each to get in. I had a fifth one on, and we went until the tournament was over but it broke the leader. I could see red on the reel, so it was pretty close to the boat."
When asked what he thought what their chances of winning were prior to the tournament he admitted they had high hopes.
"From the beginning Sam and I were all hyped saying 'What if?' We had an inkling we would win after the third fish, there was only 40 minutes left. (Team) Little Spook had to catch the one he had on, and another one to get ahead of us and they didn't. Once we got the fourth one we knew we were going to win it. At that time there was only about 15 or 20 minutes left in the tournament."
William continued. "We were all out there for the fish, no one was really out there for the prize, and for the kids we were helping. They really need help, they really need the funding, especially if their parents can't do it. The Rainbow Project, it helps them (the Easter Seals organization) out so much. We've been donating to it for a couple of years now. This is just a great tournament, good for the kids and good for the charities. All-around fun."
The second place team aboard Little Spook (sponsored by Janoff & Khatri Pediatric Dentistry) caught three fish, and all were caught by one angler. Adam Mann, 10, fished with his sister but he got all the bites.They were late entrants, so their second place win was more than thrilling.
His mother, Dori, reported on the Kids Classic Facebook page that Adam's arm was finally getting back to normal. Adam won a rod and reel from Fisherman's Edge for being the first "fisher boy" of the tournament. The "fisher girl" prize went to Summer Gibson, and she won a prize package from Courtyard Hair.
The last fish caught for the third place prize went to the Casuarina team (sponsored by De La Vergne) with Capt. Charlie Coleman. Anglers included Charlie's sons –  Lucas, Jacob and Hudson Coleman – as well as Shayde Partin. It was Shayde who caught the last fish. It was released at 8:33 p.m. Two other boats, Faithful II and Blaze, had fish on as well at that time. That fish on Faithful II was the one that William lost.
When all was said and done, $37,000 was raised for the chosen charities of the Gasparilla Island Kids Classic this year – Charlotte County School System's STEM summer program ($18,000), Easter Seals of Southwest Florida's "Rainbow Project" ($10,000), The Boca Grande Fishing Guides Association ($500), Whidden's Maritime Museum ($500), the Englewood Community Care Clinic ($1,000) Bonefish & Tarpon Trust ($1,000), the Boca Grande Historical Society ($2,000), The Island School ($2,000) and the Dee Wheeler Scholarship Fund ($2,000).
The winner of the captain's raffle prize, which was $3,000 donated by Stump Pass Marina and Lighthouse Grille, was Capt. Dave Kelley. He promptly donated $1,000 of his innings back to the Whidden's Maritime Museum.
"We appreciate everyone who does something for their community, to give back," Melvin said. "Everyone who participated in making this tournament successful – whether they were the anglers, the captains, the volunteers or the sponsors – did that on Saturday. Not to mention, it was really great to see my friend Matt Coleman and his son, Ethan, win first place. Family and community service are two things these tournaments are all about."